We got up about 10 minutes early today to dash out into the backyard and watch the Space Shuttle Discovery take off at 6:21 a.m. I love night launches because the sky goes from a dark black to a brilliant orange in the blink of an eye. Granted this was a sunrise launch, but the shuttle lifted off a few minutes before the sun rose so we still got the benefit of a night launch. I read that this was the last night launch scheduled for the shuttle program, so I didn't want to miss it.
My oldest son was all geeked up to watch it too, so I woke him up and we dashed out in the backyard with a flashlight and a camera and looked East. I realized at about that moment that I did not have the camera on the right setting and wouldn't be able to find the correct setting in about 5 seconds in the dark with a flashlight. I knew the photos wouldn't look very good, but I took them regardless and tried to focus on enjoying the experience, especially through my son's eyes.
When we look East we walk to our back fence and can see our neighbor's house, which is usually pretty hard to see from our house. We're a straight shot to the space coast so the shuttle launches are quite an experience, no matter how many times you see it go up.
Here are the photos (on the wrong setting) that are blurry and off, but it's better than having none at all. I will have the tripod and the right settings for the final launches, I assure you.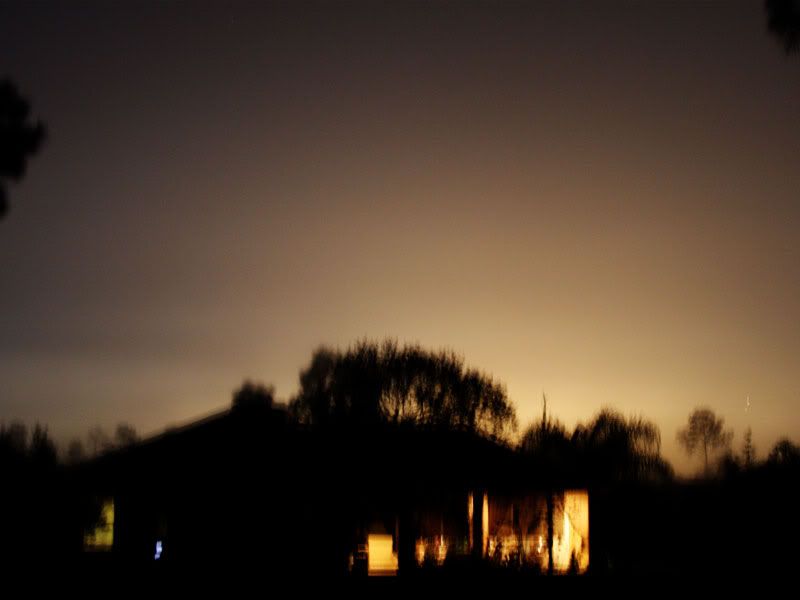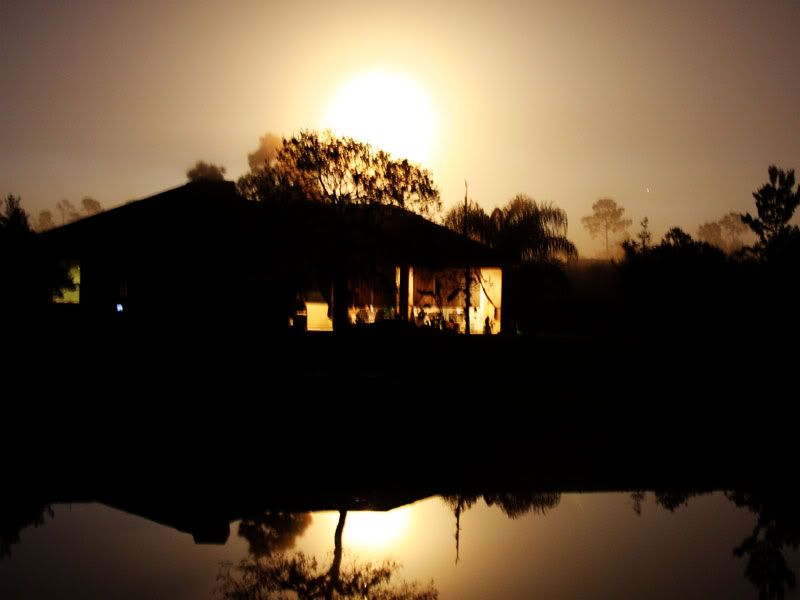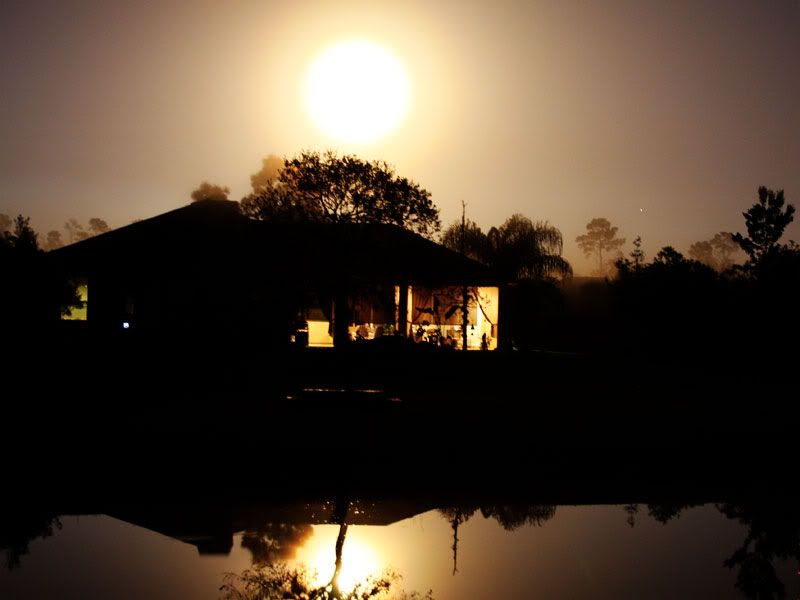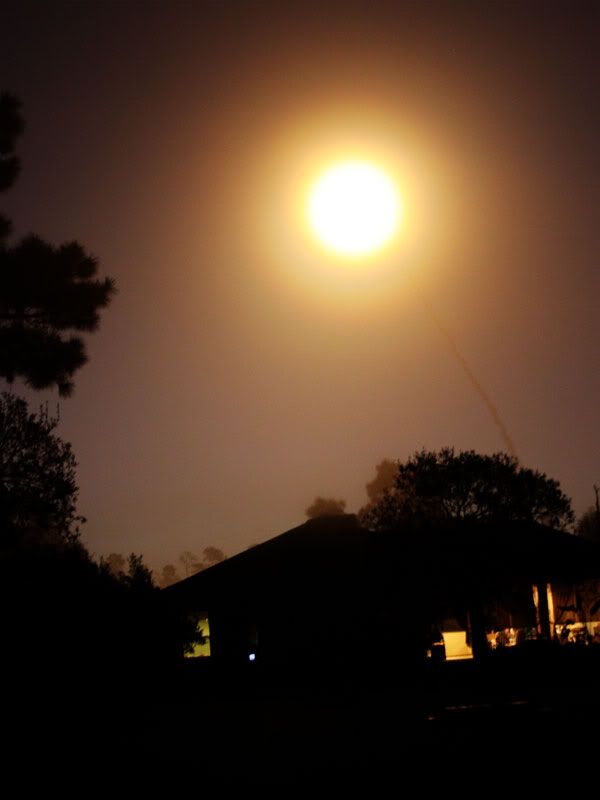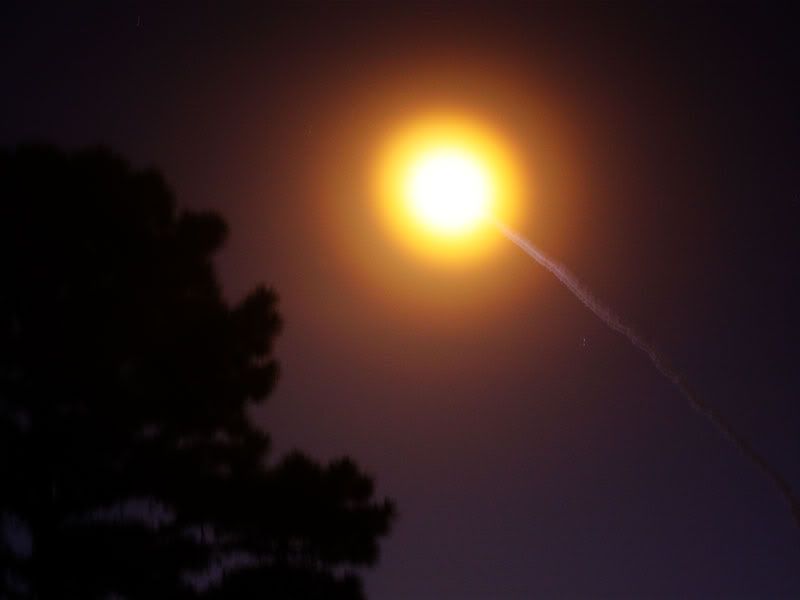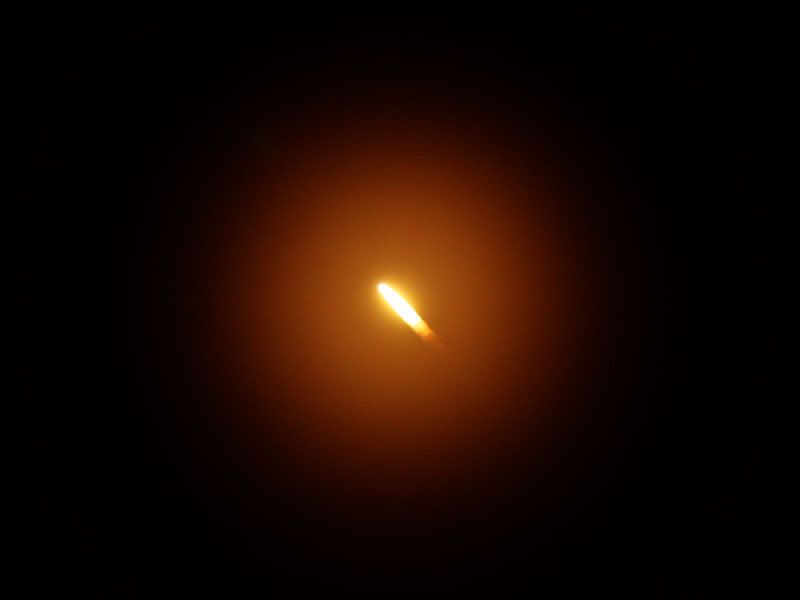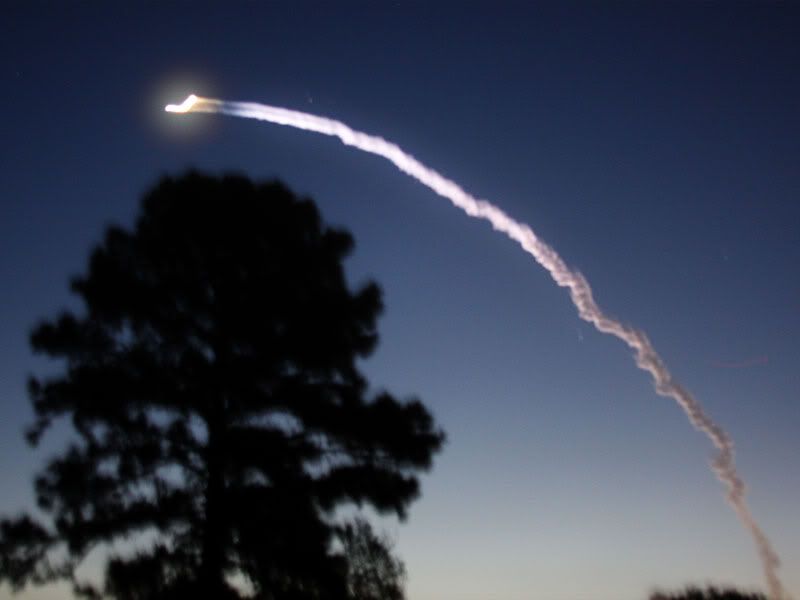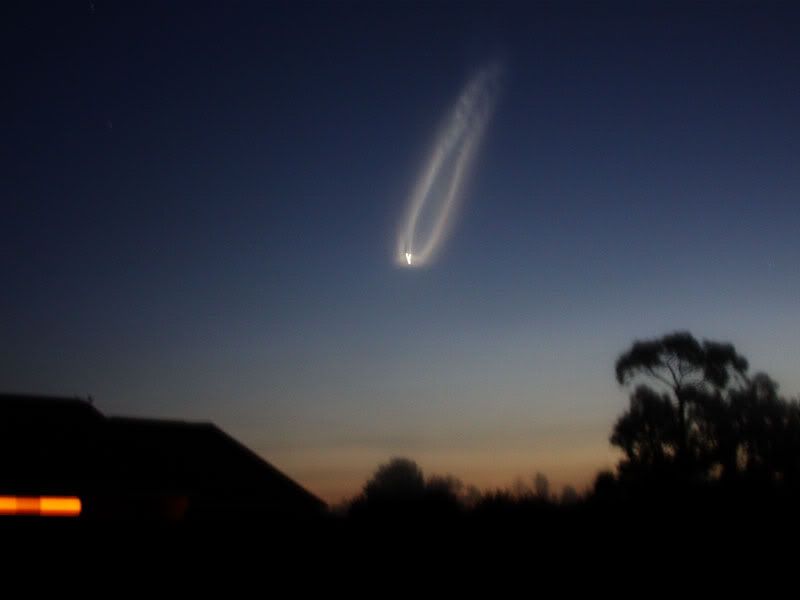 It was a quiet, still morning so a few seconds after the shuttle took off we could hear and feel the low, loud rumble of the rockets. We put our hands on our wooden fence to feel the vibration and my son was impressed by that. We watched the two solid rocket boosters fall from the shuttle and we were fascinated by the strange vapor trail-type thing in that last photo.
(Farmer B said to Aidan, "Look, they just released the boosters. Can you see them falling in the sky?" Aidan says "WHAT? they released their boosters??? What will they sit on if they got rid of their boosters???")
My son recently had a NASA employee speak to his kindergarten class and he told me that the man said they use a chicken egg to train people. Apparently to use one of the robotic arms they have to successfully pick up a chicken egg and move it without breaking it to pass the test. He wasn't sure if it was ground workers who retrieve the SRB's from the ocean or if it was astronauts in space, but regardless he liked that story since we have chickens - and eggs - in our backyard.
As the shuttle was launching, Farmer B and I really tried to impress upon him the awesomeness of what he was witnessing - that there are only three shuttle missions remaining and then the whole program is ending; that children all over the world would love to be as lucky as him and be able to see the shuttle take off from a vantage point in their own back yard; and of course how brave the astronauts are that are hurtling to space at over 17,000 mph.
This shuttle mission is going to the International Space Station to carry supplies and science equipment and will return to Earth in 13 days on April 18 at 8:35 a.m. It was a strange feeling knowing we'll never see the sky light up orange from the night launch of a space shuttle ever again.
I can't imagine how busy the space coast will be for the final three launches. We'll be camped out in our backyard (if the timing is right) and will try and capture all three of them on film and hopefully in the memories of our boys who will one day be able to tell their children about this.
To see some past entries with shuttle launch photos, click
here
.