We made our annual trek to
Long and Scott Farm's
corn maze in Zellwood, FL, today. It's a good hour from our house, but it's well-worth the trip. Going to a corn maze in the Fall really has a nostalgic feel to it. I'm not sure why since I grew up on a beach, but it just feels like one of those "the way it was" things to do. There's not a lot of good old-fashioned fun here in Central Florida, so this is definitely a change from the ordinary.
If you want to find a local corn maze in your neck of the woods, visit the
Corn Maze Directory
and click on your state to find local mazes (there's a $1 off coupon if your maze is on that site). It's a great thing to do if you've got kids and even if you don't, it's a great way to support local farms.
Long and Scott's farms is one of Central Florida's oldest working farms. It was started in 1963, but the corn mazes didn't start until about 2003. They have one enormous 6-acre maze that is cut in a different theme every year and one smaller maze for children.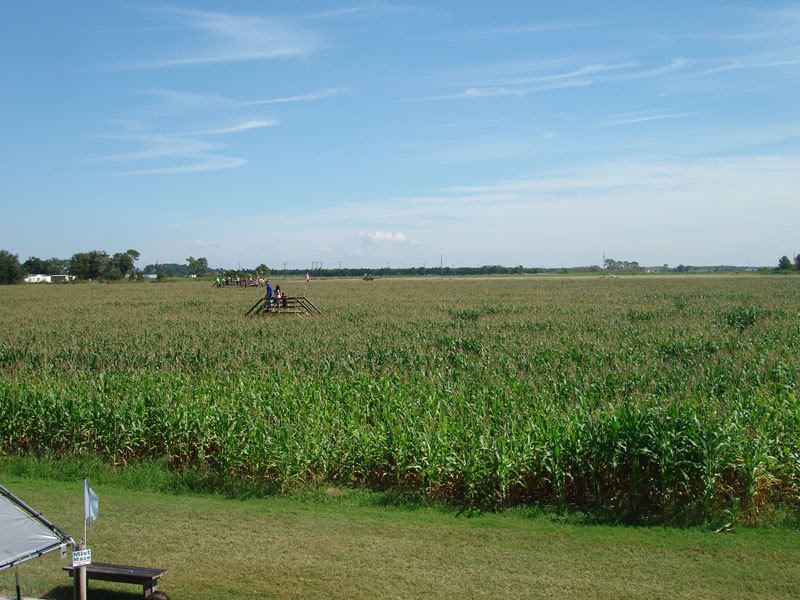 Last year they had a space theme and this year the theme was Florida Agriculture and was cut in the shape of a tractor. It can take hours to get through the maze, but we made it through rather quickly thanks to some bad luck. We kept finding the exit and could not find our way through the rest of the maze, so we missed a good 3/4 of the maze. This sort of thing only happens to us.
They give each group a flag on a stick when you enter the maze. If you get lost while in the maze you're instructed to yell for help and waft your flag around in the air. The maze master, who is perched on a platform in the center of the maze, will either yell directions to you or send someone to help you out. When you're in the maze you realize that you could very easily get lost for hours and it has a very "Children of the Corn" feel to it...especially when my pale-skinned, blond, curly-haired toddler kept poking his head out from around a corner.
The worst part of the corn maze was looking at the soil the corn is growing in. We're killing everything in our garden and we're obsessed with the soil quality. This maze - these acres and acres of beautifully growing tall stalks of corn - are growing in sand. It's just grey sand. That makes me crazy that I'm obsessing about the nutrient content of our soil and this farm is using sand to grow their prized crop.
The other great part of the experience is eating the fresh sweet corn they cook up for you to buy. It's definitely the sweetest, best-tasting corn I've ever had. It makes me realize how much I want to plant corn and watch it die in our garden.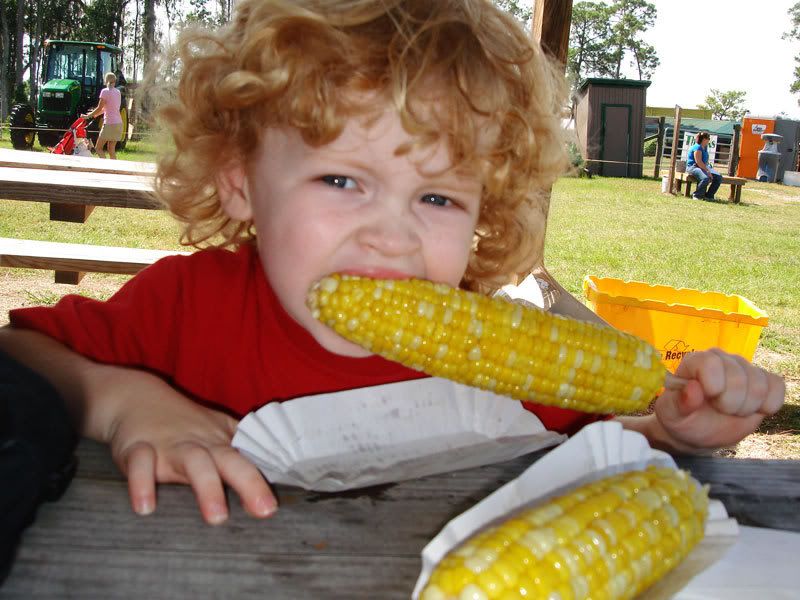 They also had a fishing pond for kids to take their turn at fishing in their catch and release program. We never saw anyone catch a fish, but I did see a sign that said "Please do not feed the gator."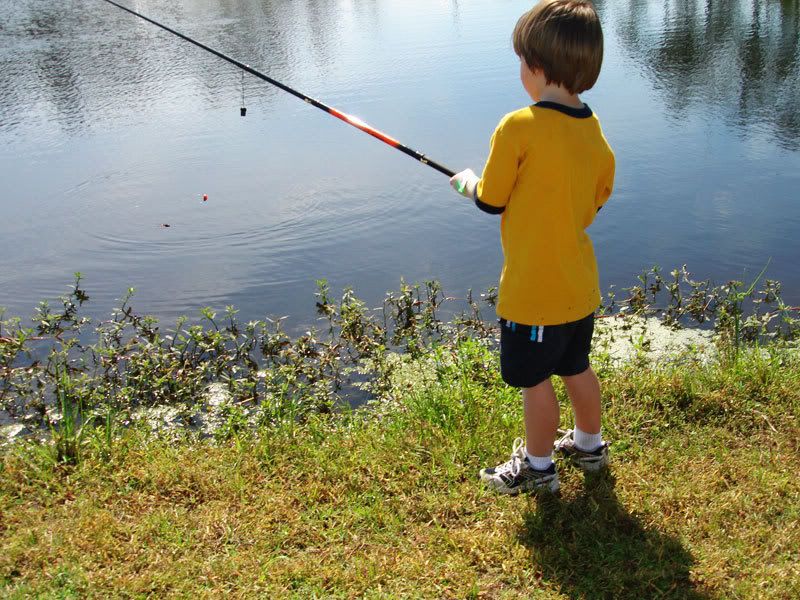 Inside the country market they had lots of fresh vegetables right from the farm. We bought some freshly-made pumpkin butter and a dozen ears of fresh corn to bring home. The boys had lots of fun wrestling amongst the pumpkins and looking at all the fresh produce. It was just a good old-fashioned day and we can't wait to go back next year.