As you may have read, the first edible food we harvested from the garden was a
row of radishes
. And the problem became what on earth we'd do with them besides bung them on top of a salad. I felt compelled to actually try and enjoy the only fruits of our long garden labor. My friend Courtney found a
Red Radish Salad recipe
from
Rachel Ray's website
. I was game because it didn't have a lot of ingredients and sounded good. I made it last night and it was honestly one of the best-tasting little salads I've ever eaten. This should be a go-to recipe for any new gardener that successfully grows radishes. They're easy to grow so they're a good first-vegetable for us newbies, but then you have to figure out how to enjoy them. This recipe is it!!
Here's what you'll need: Sugar, lemon, sour cream, red radishes, golden delicious apples, European seedless cucumber, fresh dill, salt and pepper. Do you like how I laid it all out for you like the ingredients are so exotic that you need your hand held to figure them out? Good. I will now continue to insult your intelligence by photographing the steps. Yes, I was just that excited about the damn radishes. Here we go: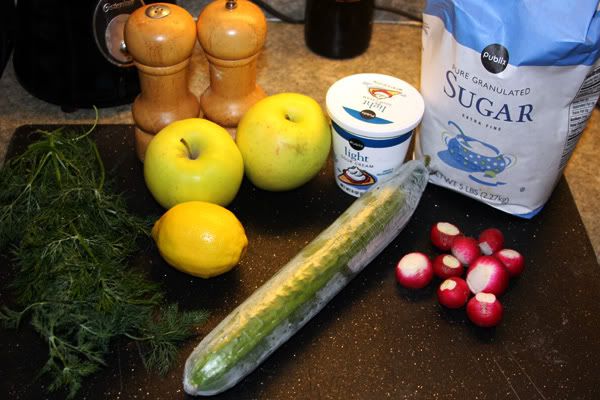 First you quarter and core two apples and slice them into thin slices. (Now that I've done this, I'd say to do this last because the apples brown quickly).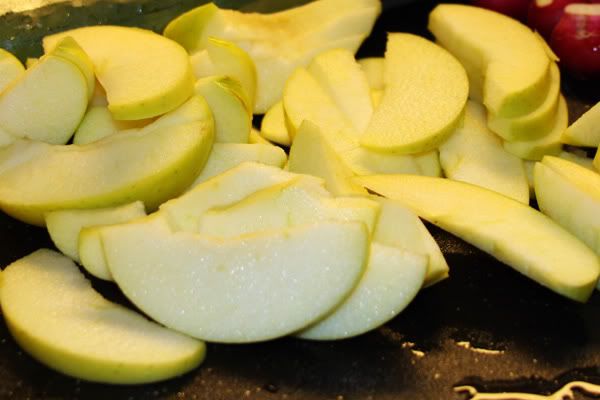 Next you thinly slice your radishes - the real live radishes that you actually grew in your garden that you're so happy about - those radishes.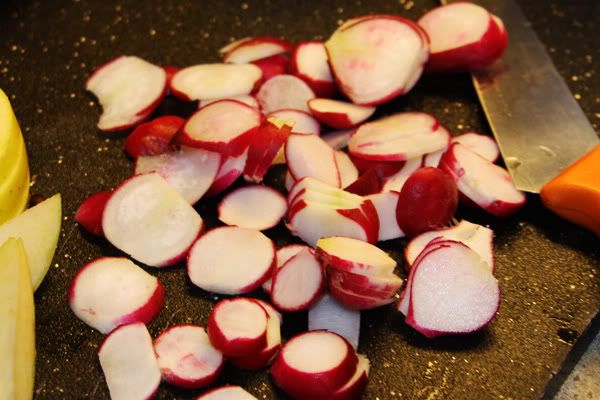 Then you thinly slice one-half of your Euro-cuke. I'm sure you could do this with an American cuke, but European cucumbers are just so much more refined.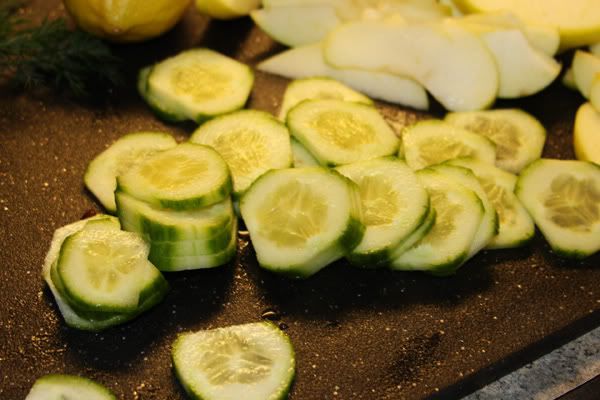 Chop up some dill - about 2 tablespoons. You just can't have too much dill. Feel free to add about 3-4 tablespoons like I did because more dill is the only dill.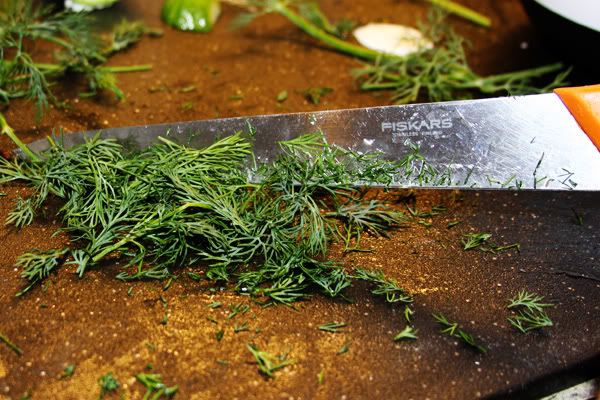 Then get a large bowl and mix up the juice of one lemon, 2 teaspoons of sugar and 1/2 cup of sour cream. We used reduced fat sour cream to make it a bit healthier. The bowl you see pictured is not a large bowl. I decided a small bowl would work. Then when I dumped all the chopped up food in it, it didn't fit. So definitely get a large bowl.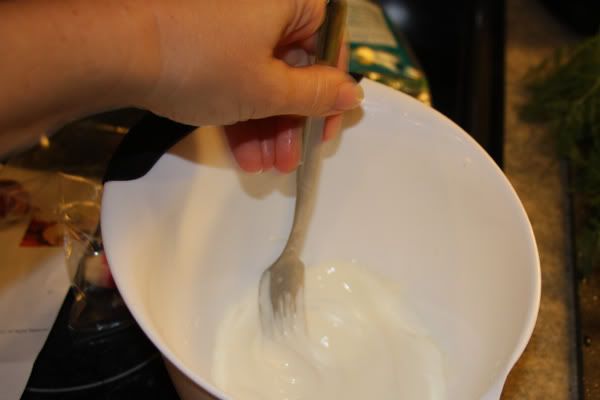 Finally add in your radishes, apples, cucumbers and dill and toss to coat thoroughly and sprinkle with salt and pepper. (This would be the large bowl).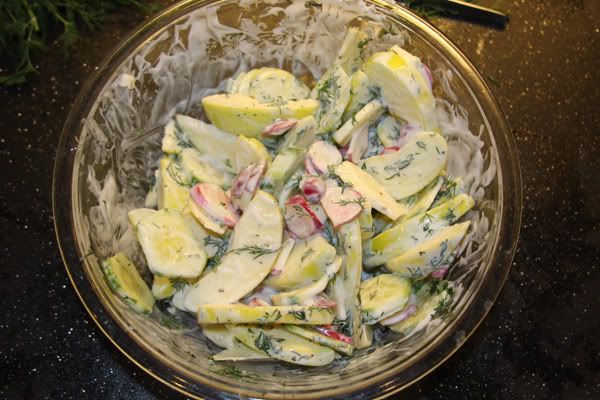 I just couldn't believe how great it tasted! Farmer B got home from a long day of work and turned his nose up at the funky-looking salad in the fridge. Next thing I know he's inhaling it and raving about how great it is. He said it's one of the best salads he's had. Farmer B is a manly-man, so him happily snarfeling down a Red Radish Salad and raving about it is huge.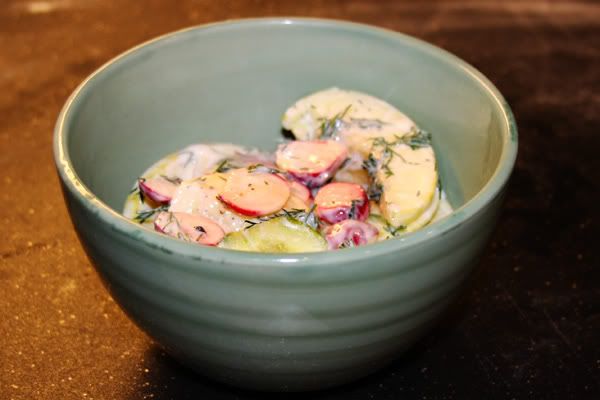 It's sort of sweet like a fruit salad, but the dill and radishes add a very nice bite to it. Now I'm no chef, but this was so tasty and so easy to make. If you can chop things up and stir stuff together, you're golden.