As we all know, this past weekend was Mother's Day. I was looking forward to my hand-made card and presents from the boys, which I love more than anything. I know that many moms secretly hope for some romantic trinket from their husbands too - a necklace with the kids initials on it, a birthstone bracelet, something sparkly and beautiful. But Farmer B knows that I'm not into the sparkly stuff, so I wasn't sure what to expect for the big day. Honestly as long as I got my handmade cards and gifts from the boys, I'd be happy.
But Farmer B pulled out the big guns and I got the Gardening Motherload for Mother's Day.
They had me close my eyes and walk out to the garage, where I first saw this: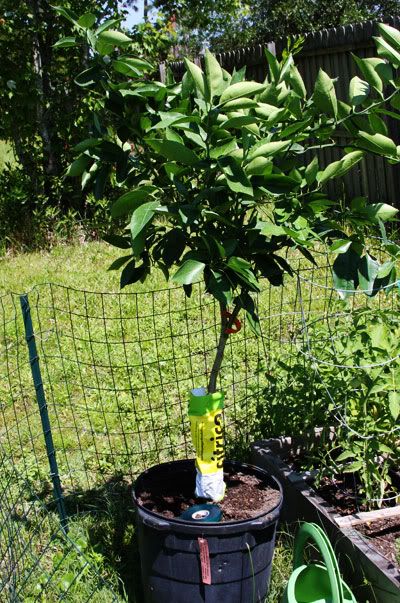 A big beautiful orange tree. In my
first ever blog post
, I mentioned our almost dead baby orange tree. Of course it has since died and I've always felt bad about that since it was a present to my husband from my mother. Now we've got a new orange tree to take its place and I'm determined to force this one to go against its natural instincts and live. I'll actually try and feed this orange tree and water it - and all the other stuff you're supposed to do to make trees live and not die.
Then I noticed a big brown box in the corner and realized that it was a real-live composter!! The kind that you can turn periodically with a handle!! Look how happy this woman looks in her white pants and straw hat. That's gonna be me soon! I can dream, right?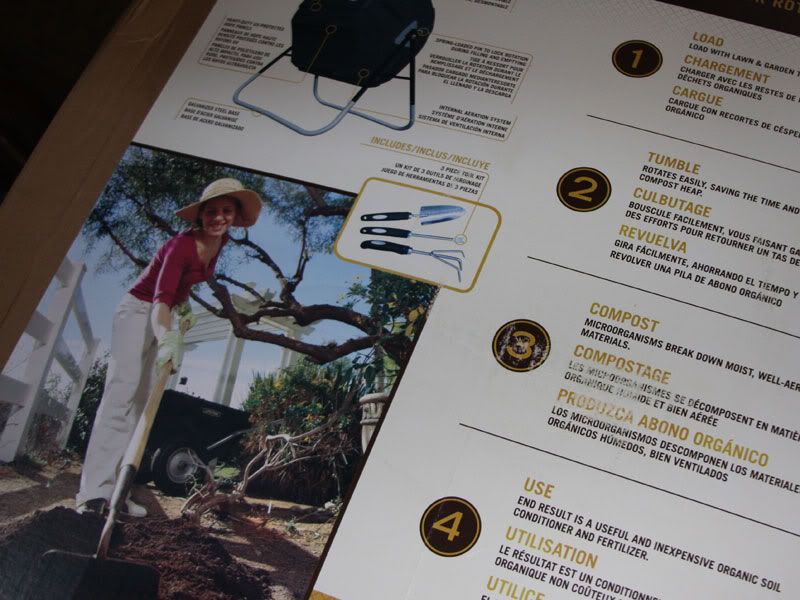 Not that my
homemade garbage can-composter
isn't awesome, but it's next to impossible to turn the compost so it just sits there getting heavier every day. Now I've got two composters, which I think will be perfect! This thing has an assembly book as big as a phone book, so I think it'll take us a full day to put it together next weekend.
And just when I was giddy with my new tree and new composter I noticed three little plants on the floor. I am now the proud owner of a blueberry plant, a raspberry plant and a blackberry plant. EEEEK!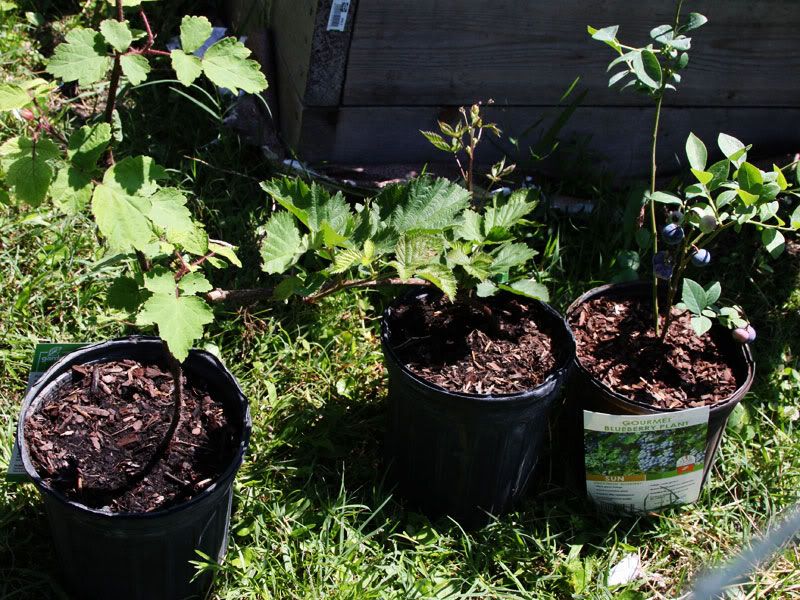 I have plans of building a raised bed along the side of our well where we already have a trellis in place (more so to hide the well) and planting the three new plants and some existing strawberries that aren't doing too well. I realize I'll need to cover the plants with chicken wire to keep out the
Great White Beast
, but I'm excited about the whole shebang.
Did Farmer B give me a great Mother's Day or what???