Yesterday was quite a day in the young lives of our hens. Yesterday was the first day they tasted blood - their first kill - true blood.
The boys and I went out in the backyard before dinner when I heard a noise from the chicken coop that alerted me that something was wrong. Besides a frenzied bok-ba-gawking there was a low growl that I hadn't heard from them before. It reminded me of the noise our cats make when one of them goes to the vet and then comes home and the other one does that low growl when he sniffs the vet-office-stink on the other cat. If you have cats, you know that noise.
When I looked in the cage I saw that Maggie was running around madly with something in her mouth and she was clearly the source of the low growl. The bok-ba-gawking was coming from the other two who were chasing her like their lives depended on it. She was going so fast that I couldn't see what was in her mouth.
But then I saw the long dangly legs.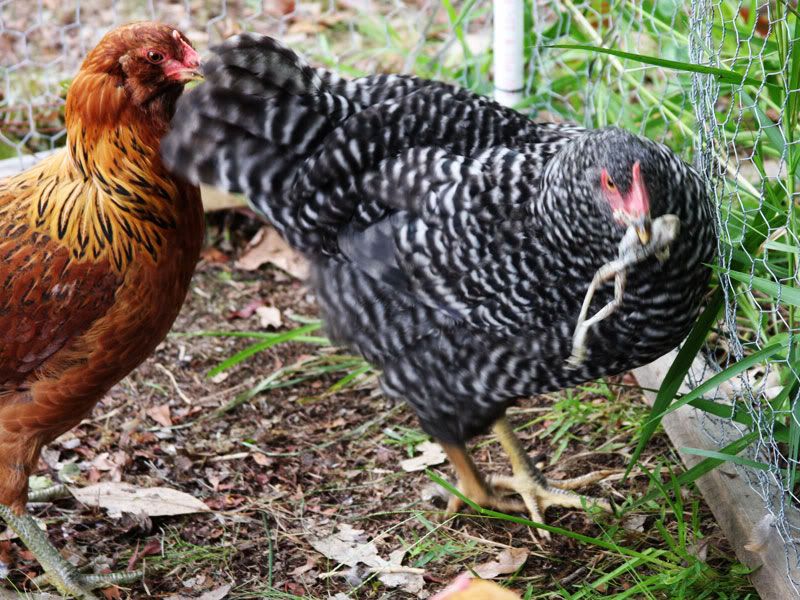 She had a frog.
A big dangly tree frog.
She stopped running every now and then just long enough to bash the frog into the wooden frame of the run, which sent the other chickens into a frenzy as they tried to steal it from her.
A few times they all grabbed a limb and proceeded to attempt to draw and quarter the thing in a very grisly scene.
When I ran in to grab the camera, Sookie must have taken the frog from Maggie because she had it when I got back, much to Maggie's dismay.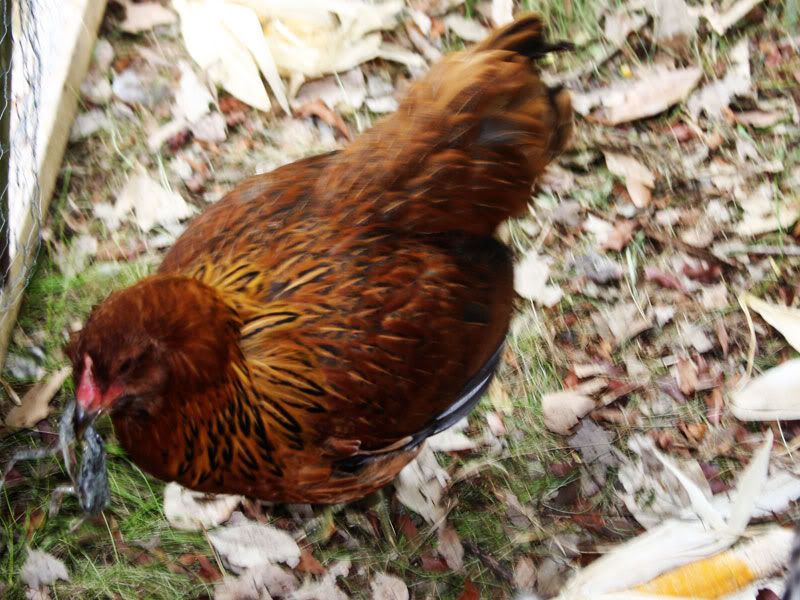 And the chase was on again. I don't know if the other two chickens got any parts, but there did appear to be slightly less of the frog hanging out of Sookie's mouth. Then she went to the corner and gulped the thing down.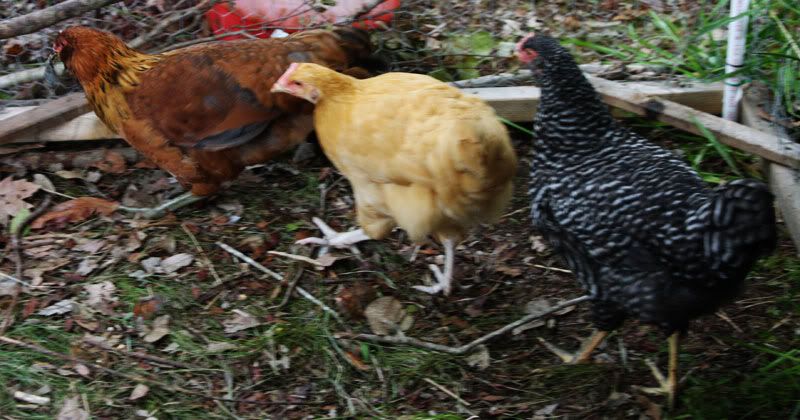 I must say, I was floored. I didn't know that chickens were quite so carnivorous. It was like the velociraptor scene from Jurassic Park. After poking around on the
Backyard Chicken Forum
I found that chickens will eat frogs, snakes, mice, lizards and anything else they can beat to death and gulp down.
Mine apparently crossed over to the dark side with just a measly old frog.
I wonder if it tasted like chicken?