Since I have thrown myself head-first into the world of chickens I have uncovered some very unusual chicken-related things on the web that beg for comment. We've already discussed the awesomeness that is the
chicken diaper
, and now I think it's time to present the most wonderful and amazing chicken coop I have ever seen. This isn't just a fancy chicken coop - it's definitely a masterpiece of chicken art unlike anything you can ever imagine...and also a place for chickens to worship? Presenting...The Chicken Chapel.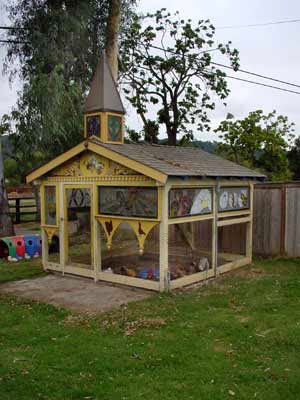 photo from http://www.andreazuill.com/JeanBenelli.asp
I first learned about "The Chicken Chapel"
here
where the artist, Jean Benelli, writes a description that really paints an amazing picture of her work:
"There are 8 glass stained glass windows in all. The windows tell the story of Christ depicted as a rooster. The rooster is the symbol of Christ (in my work). The words in the west windows say "Hen House" in the Latin alphabet, Latin being the language of the church. Inside the coop, the ceiling is painted a sky blue with 300 tin stars attached. The chandelier is wrought iron with ceramic chickens and gold gilt eggs. The chickens represent the 12 disciples, and Christ. The four gilt eggs represent the four apostles.
I have also painted a picture of an icon depicting Penelope, Patron Saint of Chickens (made up Saint), along with rubber chickens of the Crucifixion and Resurrection. Soon, it will have a Mosaic Foundation in red, blue, green and yellow tile, and a steeple.
My chickens don't know that their coop is not finished!!!
It has been a two and a half year project. It took me one year to build the windows.
My artwork is quite odd to most people. It is mostly chicken saints and icons, some in watercolor and some in neon. I am having a good time, anyway.
I am included in many art shows, but few people actually buy.
Thank-You for your interest, I do love my chickens!!!
- Jean Benelli" (- from http://shilala.com/coopofdistinction.html)
I went to
Jean Benelli's website
and was seriously gobsmacked by the grandeur of The Chicken Chapel, as well as her other unique chicken art. The one photo I have placed on my blog is too small to appreciate the grandeur of the coop and does not do it justice at all. You must
go to her site
to see detailed photos of the coop with close-ups of the stained glass and how it all looks lit up at night.
Have you ever seen a more unique and amazing way to house chickens in your life?