Since I'm entering into the world of covert backyard urban chicken ownership I have been spending entirely too much time on my new favorite website -
Backyard Chickens
- and specifically the Backyard Chicken forum. I have a chicken-themed user name and I talk turkey with other chicken owners in an effort to be the best covert chicken owner I can be. Farmer B knows nothing about this because I still want him to think that I might still have an ounce of coolness left in me and I haven't morphed into something weird and unrecognizable.
In my poultry-related online travels I came across something that I just can't stop thinking about. It's quite possibly the most interesting part of chicken ownership and I'd be willing to say that only hard core chicken owners chose this path. And I'll be the first to admit that I'm just beyond captivated with this.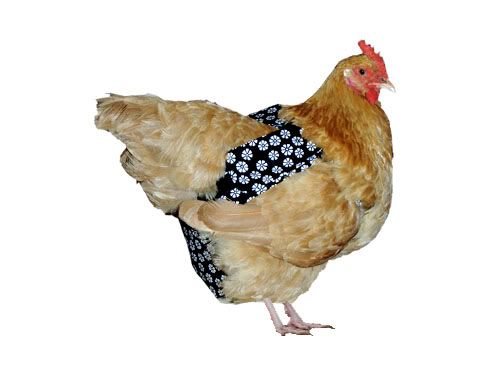 Chicken diapers, my friends.
Chicken.
Diapers.
I found websites for
purchasing your own chicken diapers
, which I might add are pretty pricey (they cost more than a nice cloth diaper for your baby). I have also found patterns for sewing your own chicken diapers, which is probably the way to go if you want your favorite college team on your chicken's arse.
And I even found this great how-to video on YouTube. This woman - chickenmom - has a 7 minute 30 second video on how to measure your chicken for its very own custom diaper. She'll show you how to make it and how to wrestle your bird into the diaper. Make sure to view around the 5 minute 30 second mark when she shows how to diaper Phillip, her rooster, who also wears a little blue cape since he pecks at his own feathers.
If you choose to diaper your chicken, rooster, duck or other fowl, I've read on the chicken forums that you should use the diapers with a sandwich bag in there, a paper towel for extra absorbency and sprinkle in some Diatomaceous Earth and you'll have an odor-free chicken bum jaunting around your house. These in-home birds are often called "house-hens" and can roam around the house just like a pet cat or a dog, if they're appropriately diapered of course.
I have an interest in these chicken diapers for several reasons - I cloth diapered my boys so I like the idea of reusable cloth diapers… I like anything a bit quirky… and someone said they keep chicken diapers on hand for hurricane season. If a hurricane comes your way, you slap diapers on your flock and move 'em in to the spare bedroom and hunker down. We live in hurricane central and I think I might need to add three little chicken diapers to our box of hurricane supplies.
And I thought hiding my chicken-forum obsession from Farmer B was a must? What on earth will he think about this?