We took the boys out today for a double outing to two Florida State Parks:
De Leon Springs State Park
and Blue Springs State Park. (You'll be able to read all about Blue Springs tomorrow.) De Leon Springs has a wonderfully kitschy entrance sign with an old-fashioned female bather buddying up to Ponce de Leon in what they're calling "Nature's Cameraland."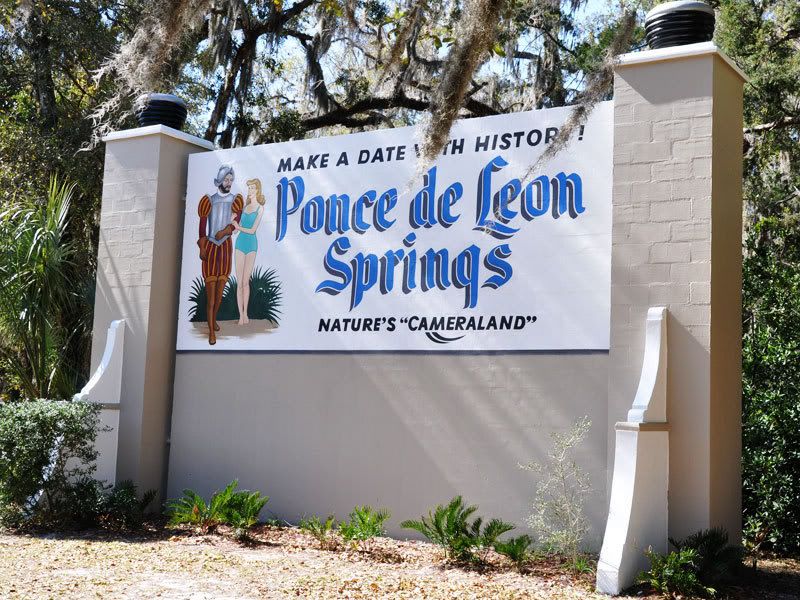 De Leon Springs State Park has a special draw for park visitors - an old Spanish Sugar Mill from the 1800s has been converted into a pancake restaurant and grill.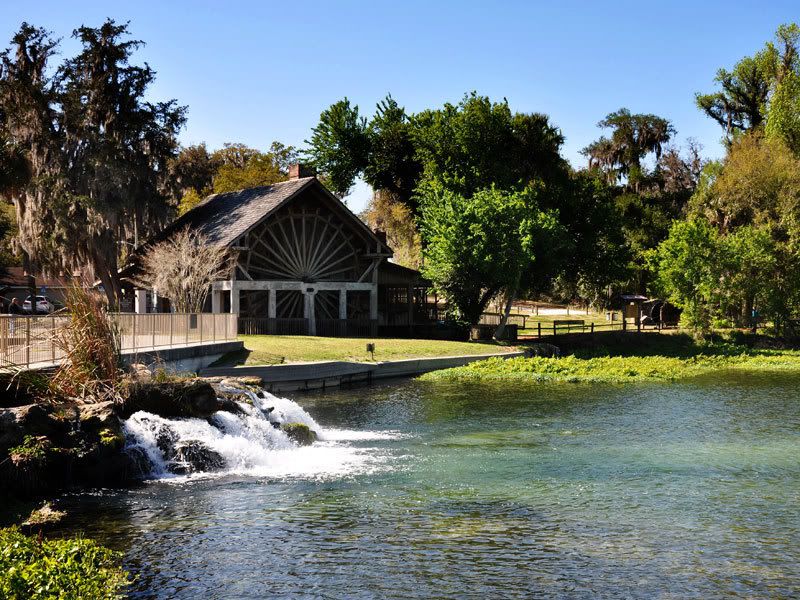 Each of the tables in
The Old Spanish Sugar Mill
has a griddle built into it and the servers bring you all-you-can-eat pancake batter so you can make your own pancakes right there at your table. This sounds appealing - and is - until you realize that if you're a mom you're finally out for breakfast, but you're doing the cooking…again. I let Farmer B take the lead on pouring out the pancake batter just so I could feel special.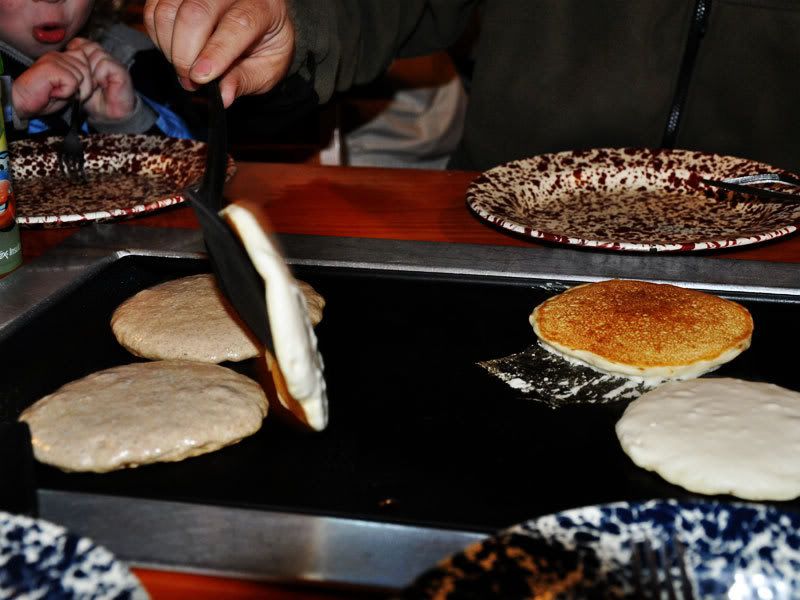 They bring you two pitchers of pancake batter - one with a regular batter and one with a stone ground batter made of five different flours hand ground on their own French buhr millstones. The stone ground pancakes cook up a rich buckwheat color are out of this world. You eat the pancakes on these old-fashioned metal plates, which reminded me of something you'd use while camping. The boys tested out the griddle to see what from the table would burn on it and it turns out that the plates do not burn… but the menus do.
You can order all sorts of random toppings for the pancakes and lots of different side dishes, like eggs, bacon and ham, and you just cook it right up at your table. Jace has never eaten more than a bite or two of pancakes before because he's a picky eater and they scare him for some reason, but he was entranced with these pancakes and ate three enormous ones.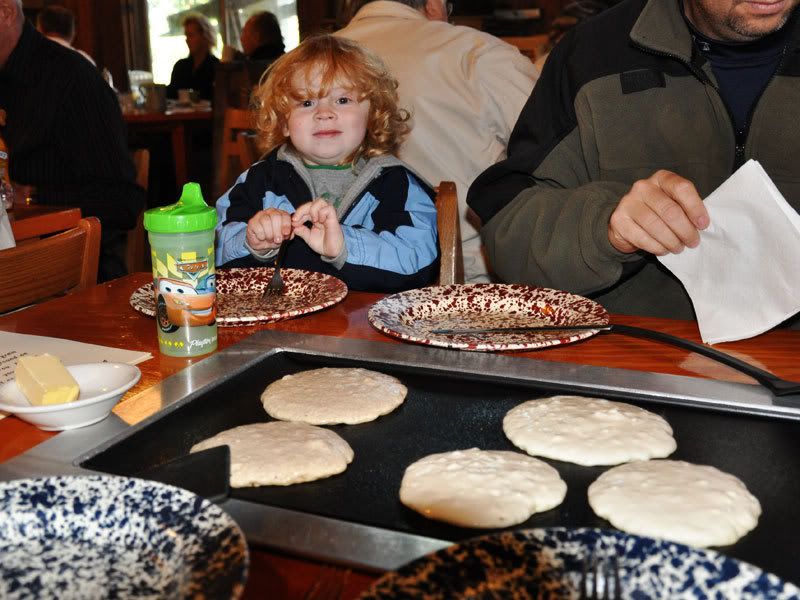 Aidan quite enjoyed getting a turn at flipping the pancakes and ate until he couldn't shove another pancake in his mouth.
The restaurant is a small place so you'll probably be seated at a long table with another group of people, but each party has their own griddle. There is no heat or A/C, save a fireplace in the back room, so I would not advise going there in the warmer months, which is about 75% of the year here in Florida. They have large ceiling fans and screened windows, but that's it. I imagine it's literally cooking in there in the summer months. The restaurant was opened in the 1960s and I don't think anything inside has changed since then - including the servers. It's very "old Florida" and was more fun that we imagined. You can even look up and see the gears attached to the water wheel outside.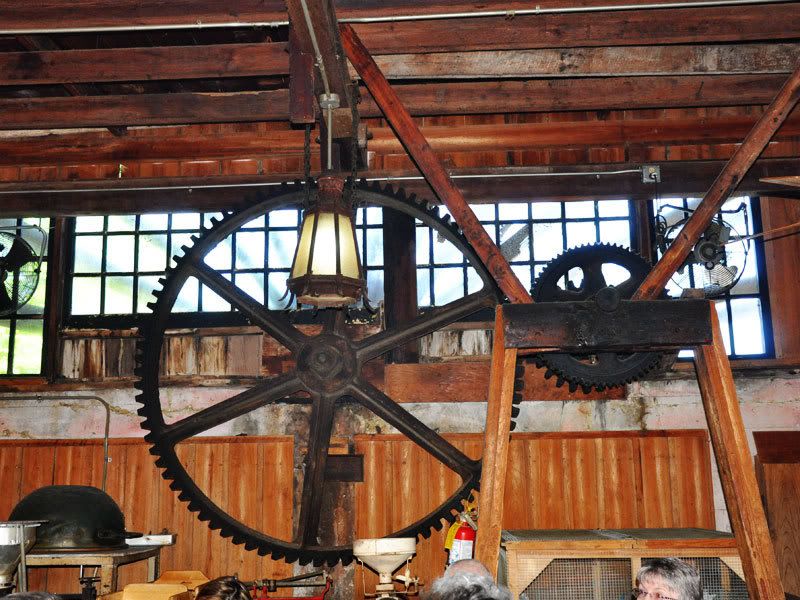 Outside the restaurant you can see some of the original gears and such from the mill and take a boat tour and learn about the fountain of youth that Ponce De Leon claims to have discovered. From the looks of the restaurant patrons on this cold Monday morning, all the white-haired senior citizens were probably disappointed that the Fountain of Youth boat tour was closed due to high winds. It turns out that the only people out on a weekday morning at Florida state parks are senior citizens and bikers. Very interesting mix of people.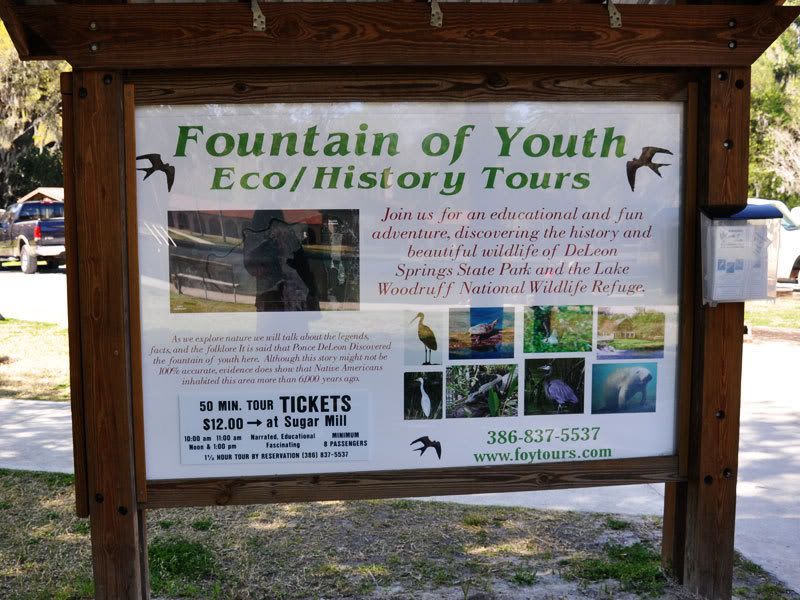 After leaving De Leon Springs we drove about 15 minutes up the road to Blue Springs State Park. The big draw this time of year are the hoards of manatees that frequent the park's warm spring waters to stay warm. I'll write about Blue Springs tomorrow...