Our seedlings in the little seed starting greenhouse actually sprouted, so the boys do not need to be my scapegoats after all. Now that things actually sprouted, I'm taking full credit for it. It should be no surprise to you that I had not planned for what I'd do after the seedlings poked through the soil. I learned that they need to go into a larger container pretty quickly because their leaves smash up against the plastic lid within a day or two of their first appearance.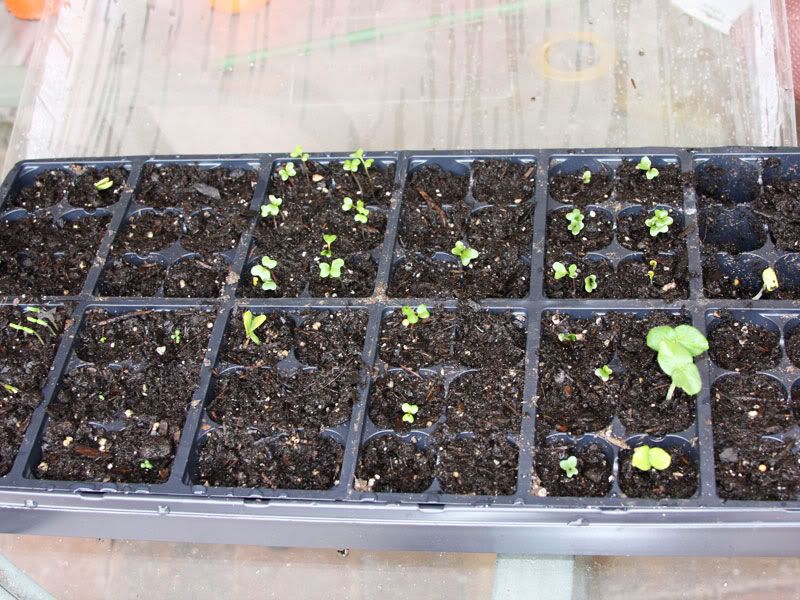 I grabbed some leftover pots from recent landscaping plant purchases and then rummaged through the recycle bin for some yogurt cups to house our seedlings. I jammed a steak knife into the bottom of the yogurt cups and twirled it a bit to create drainage holes. I transplanted all of the okra and some of the broccoli into the bigger containers and then ran out of containers.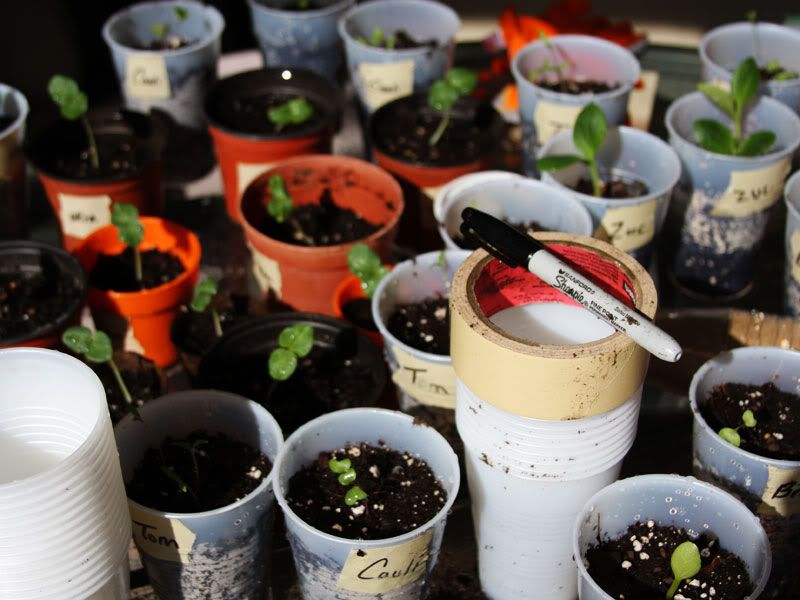 Getting the seedlings out of their tiny pots proved problematic. I used a spoon from the kitchen to sort of scoop them out. The problem was many of them had already grown very long roots that were sticking out of the bottom of the tray. I was just grabbing them out before I noticed they were coming out rootless - that's when I discovered the long roots and was a bit more gentle with subsequent seedlings. No one told me they'd have such long delicate little roots so fast. That was not in the gardening book.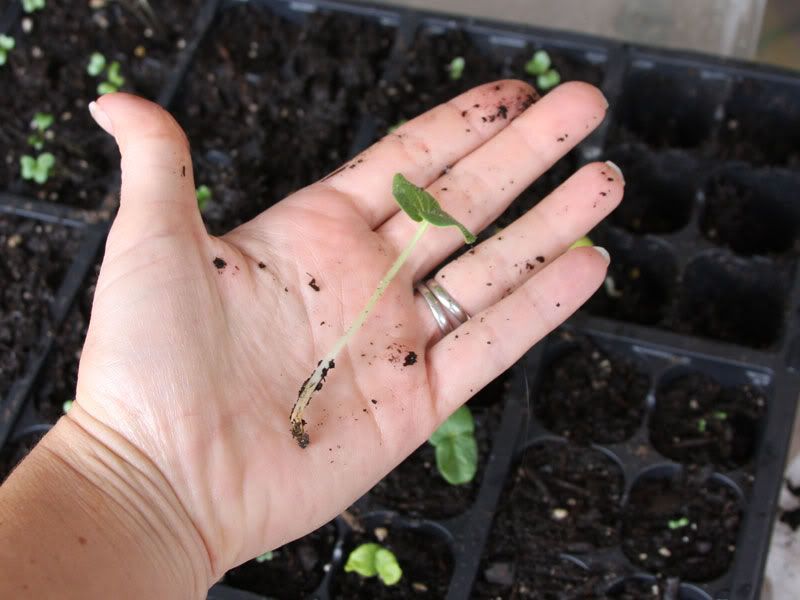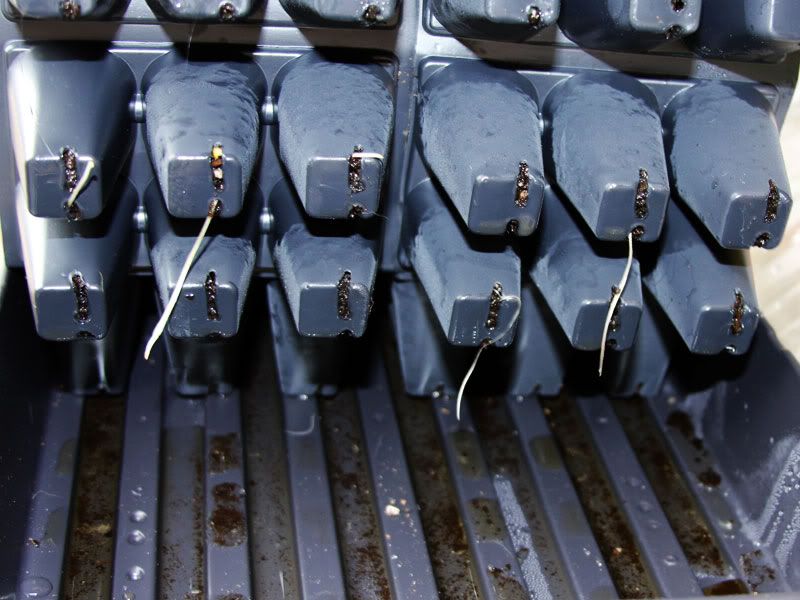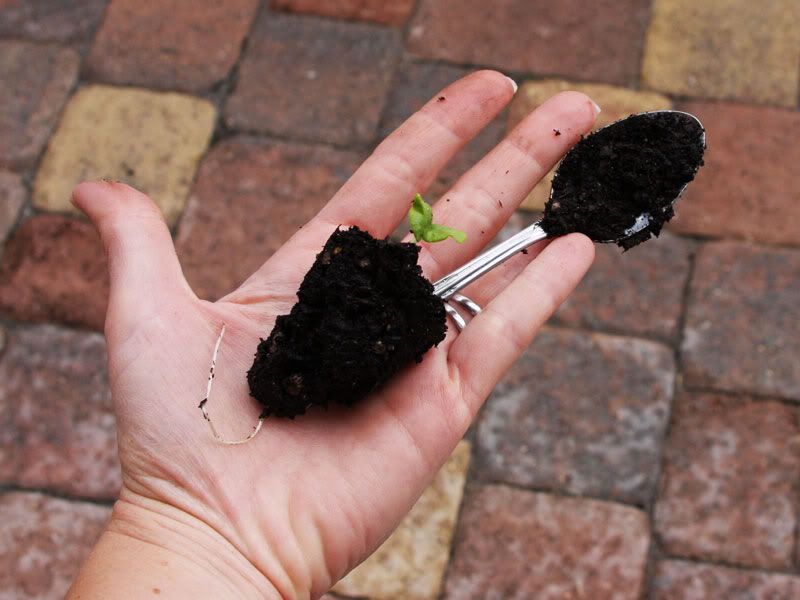 When I needed a cheap idea for more mini-planters, my friend
EG
recommended drilling two holes in the bottom of some cheap plastic cups and using them for my seedling planters. This seemed like a great way to save money so I was all over it. They'll be reusable too so I got over the guilt of buying plastic.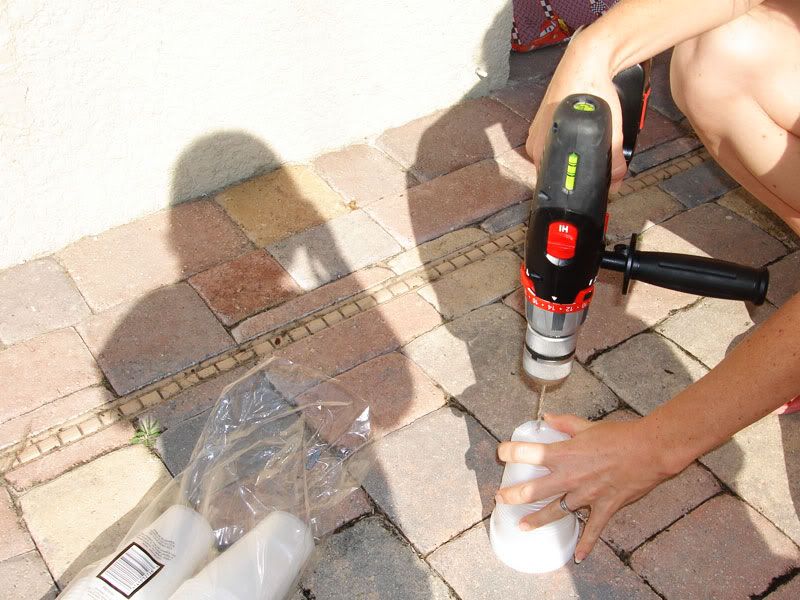 (See my little budding photographer's shadow? He's a natural)

I also learned that labeling the pots is essential. If you're not a skilled gardener you cannot recognize an okra from a broccoli from a watermelon. They're all small green leaves to me. I grabbed some masking tape and a Sharpie and labeled all the pots. Not long after labeling them I discovered my boys wearing Okra masking-tape stickers on their arms. I'm sure I re-stuck them on the right pots.