I have a chicken fantasy. I've admitted it on here before. I have the desire to join the ranks of poultry-lovers who can call themselves urban chicken owners. I get that it might not be the best choice for our family… but still I find myself constantly revisiting chicken ownership.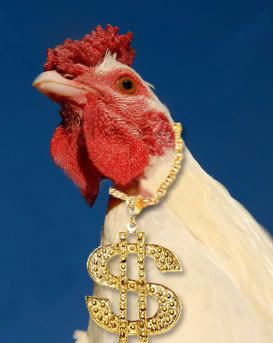 When I know no one is looking I troll the backyard chicken blogs and read about others who have taken the plunge. I even joined a backyard chicken forum. I research how to build chicken tractors. I read up on how to raise chickens. I've read about breeds and oogle over pictures of chicks and colored eggs. I have two chicken care books from amazon that will be arriving at my house today. I will even admit to buying my first issue of
Backyard Poultry Magazine
at the Tractor Supply Store the other day. What has my life become?
Sunday morning at breakfast I was flipping through the magazine at the table while Farmer B ate his breakfast and read the newspaper. He peered over the paper and I saw him glaring at the pages of my magazine. It does NOT look like Cosmo, although there was a naked chick on the cover.
"No you didn't," he said.
I just stared at him. I wasn't ready to admit to this purchase.
"Is that a freaking chicken magazine?" he asked.
Well the cat's out of the bag, isn't it?
I am so on the fence about this. I'm already that weird friend who cloth diapered her kids, who makes her own household cleaners, who uses canvas grocery bags and who dug up a huge spot in her backyard to make a garden. Wouldn't my friends just love it if I became a crazy chicken lady too?
I don't need chickens, but I think I want them. We can have them in this part of town, but our homeowner's association says no chickens. Horses are fine though. A 6-foot high pile of horse poo in your yard is fine, but a chicken coop is not. We have a privacy fence and close to 2 acres so I'm convinced we could pull off some covert chickens, especially since we pulled off raising 6 covert ducks for about 3 years.
I wish I could find a chicken mentor. You can troll the chicken blogs and chicken forums until your fingers ache, but you still can't know if it's right for you. I don't know how much work they take. I don't know how noisy they are. Honestly I fear that I'd get the chickens and then 2 months later (or 5 years later) I'd be dreading another trip to the chicken coop to feed and water them. Chickens can live as long as dogs - am I ready for that sort of commitment? Maybe I'd love it.
I already have covert urban chicken guilt and I haven't even purchased the damn birds yet.
Are there any backyard chicken owners out there who want to weigh in on this? Should I pass on this fantasy? Or should I pick up the three chicks that will be waiting for me at the local feed store in the first week in April?