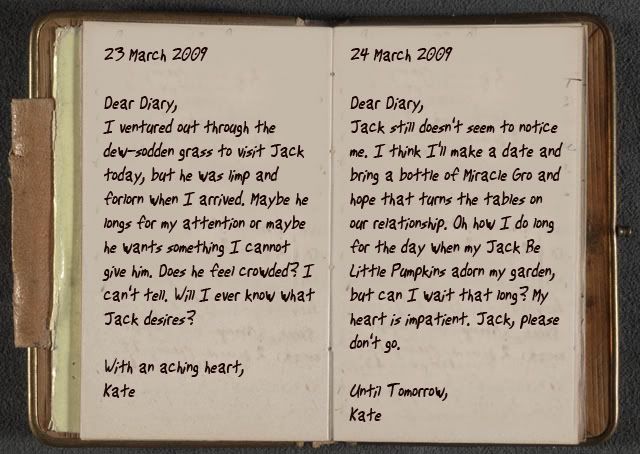 I started a Garden Journal the other day because I realized that last time we planted I wasn't sure when "things" were supposed to happen. Seed packets got lost, so germination dates got forgotten, thinning instructions were lost and harvest time was pure guesswork. And I use the term "harvest time" very loosely since we didn't grow much at all. Harvesting the one green bell pepper we grew wasn't exactly rocket science.
This time I decided to outsmart myself and write everything down. I'm creating a Gardening Log of sorts to help keep me on the right track. I went to a free calendar website and printed out a monthly calendar for the rest of the year and stuck it in a binder. I made a note in the calendar of the dates the seeds should germinate, when they should be thinned and when the harvest window falls. I also wrote down when I should feed the plants in the garden - so every couple of weeks I have a little yellow star to remind me to add some sort of plant food to the garden. Right now I'm using Miracle Gro because I have no clue what else to use. I'm also going to make a notation for when I should spray the BT and whatever other anti-pest methods I come up with.
Then I have some sheets I made up on the computer about each plant I'm growing - a place for me to write down vital stat's about when they sprouted and if I had any problems with them such as pests and diseases. I can also write down what was successful and what was a royal flop. I've left lots of room in the "royal flop" column since I'm sure I'll have a lot to write there. I also created a table with pertinent information from the backs of the seed packets for each plant so I can refer to it all in one place.
Finally I created a garden plan to show where each item was planted. I did this for the last planting and I'm doing it for the current planting. Since crops should be rotated I figured this would help me remember where to plant them next time. My memory is shot these days, so writing everything down is a necessity.
Then I got to thinking - I like this little setup, but I'm sure you can buy something that covers all this and more and even has pages pre-printed out with the things you should be making notes about. I researched what was out there and spent entirely too much time coming up with the best Gardener's Journal options I could find. Here's what I discovered:
Little House in the Suburbs - Free 2009 Spring Garden Planner
- this is a free download, so you can't beat the price. It's a nice little guide to get you to write things down and it's great for anyone who is planting according to the last frost date. It'll help anyone who wonders when you're supposed to start tomatoes indoors, sow carrots outdoors, or transplant your peppers, etc. Down here in Florida the last frost date is irrelevant, so I think I'd personally have a hard time working with their set-up. For the rest of the country, I think it'd be great. It's a great blog too, so definitely check them out.
A Gardener's Journal
- This company sells filler pages for their binders that you can keep adding to for the life of your garden. It's a neat concept and reminds me of the Day Timer planners that used to be so popular. You can keep buying refills for the sections that apply to you and skip the sections that don't. To buy a complete set with a binder is about $50, but you can buy the inserts for less if you want to buy your own binder. I think this one is by far the most comprehensive journals out there.
Garden Scribe Plant Organizer
- This is also a vinyl binder with insert pages, but this one focuses more on pockets to keep your plant tags, photos and plant care information. It includes tabbed sections for the most common types of plants found in an ornamental garden such as Perennials, Annuals, Biennials, Shrubs, Trees, and Vines. This is for a more hard core gardener and seems a bit much for beginners. It's about $40 to buy and it would make a nice gift.
A Gardener's Journal – A Ten Year Chronicle of Your Garden
- This journal is set up as a ten-year perpetual diary, which you can begin at any time. In the diary section, one page is given to each day of the year, and each page is divided into 10 sections – more than enough for 10 years of notes. In addition to the diary pages, there is also a section on such gardening techniques as composting, digging garden beds, tree care, soils, and garden tool maintenance, etc. This is also about $40 and is definitely a good tool for someone who knows they're in this gardening gig for the long haul.
Garden Planner from Gooseberry Patch
- I'm not quite sure if this is a planner to record information or if you're supposed to just read it and get tips. It's marketed to beginners and seasoned gardeners, and says it has everything you need to make gifts from the garden, host a garden party, plant swap, recipes & more. Twelve pockets will help you organize the inspiration you find along the way. This softcover planner runs about $15.
Garden Essentials Garden Journal on Etsy
- I'm a huge fan of Etsy because I love buying handmade and stickin' it to the corporate man. I've got
my own store
there too so I'm partial to anything I find on Etsy. This seller makes a nice little bound journal that has sections including plants in bloom, purchases, planning sheets, photos of your favorite things (& spacers so the book does flare out), journal pages, inspirational quotes & more. This runs about $22.
Even though I love these Garden Journal products, as for now I will be making my own. Maybe when I figure out what I'm doing and start actually harvesting real live vegetables and understanding the process a bit more I'll branch out into a real journal. I'm putting my pages in an old 3-ring binder with some photo sleeves I found in the office so it'll work for now. How about all you gardeners? Do you journal about your garden's progress? - not in a Dear Diary sort of way, but in a more "for the record" sort of way? Do any of you have an tips for things I should include in my journal as a new, inexperienced black-thumbed plant killer?? I'd love to hear your thoughts on this!