Poor, poor Damian.
Poor, poor bank account.
It's been one of those weeks around here. The kind of week that makes you wake up in the middle of the night and wonder when it'll all be over.
Damian's ear swelled up again. We had it drained twice and 10 days after the 2nd procedure to have his ear drained, it swelled up like a potato again. We went to the vet and were given three options:
1) Drain it again with no guarantee that it won't swell up for a 4th time.
2) Drain it again and put a tube in it for 10 days to aid in the drainage…with no guarantee that it won't swell up upon drain removal.
3) Do the oh-so-attractive (but not cheap) "quilting" surgery to fully open up his ear and fix the problem.
We chose option number 3. Keep in mind, we've already paid for option 1 a few times. Damian came home with a lampshade on his head and a purple bandage on his ear. He was miserable and doing that low cat yowl that lets you know he's not a happy camper. Within 30 seconds he had the bandage off and the goopy drain was free-flopping from his quilted ear.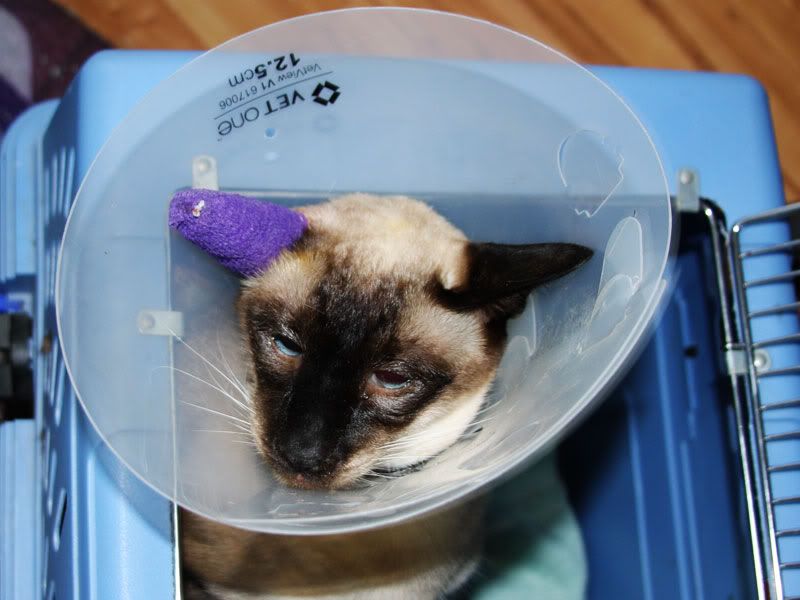 He has to have the drain removed in 10 days and we have to make sure that the drain doesn't get plugged up with blood and goo. Are you jealous yet?
Then in 20 days he has to have the quilting sutures removed and he can get his lampshade off then too. I'm not sure if you're aware, but cats and lampshades don't do well together. He's miserable, walking backwards, not eating much and hiding. We have to keep him separate from the other cat, Darwin, and the kids and dog in case anyone decides to pick on him. So he's lonely too.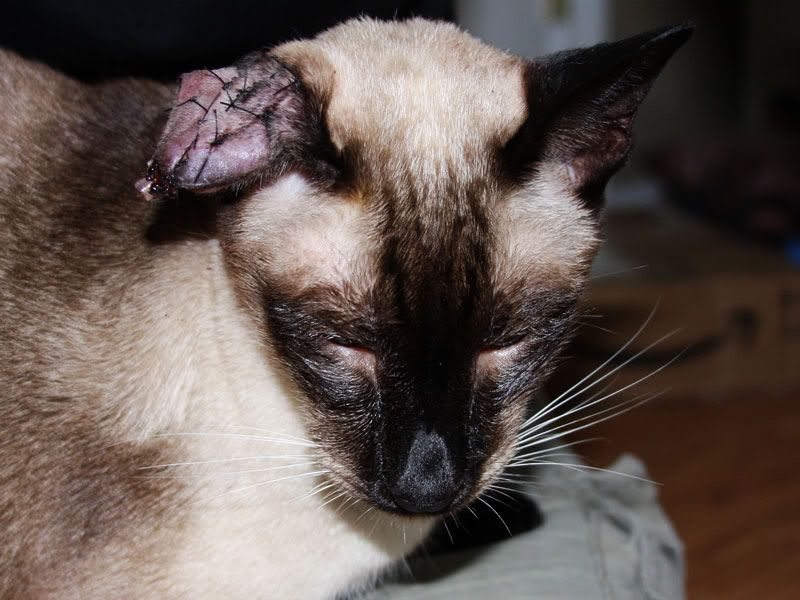 Lonely and goopy and very sorry for himself. And let's face it - his ear is downright gross to look at.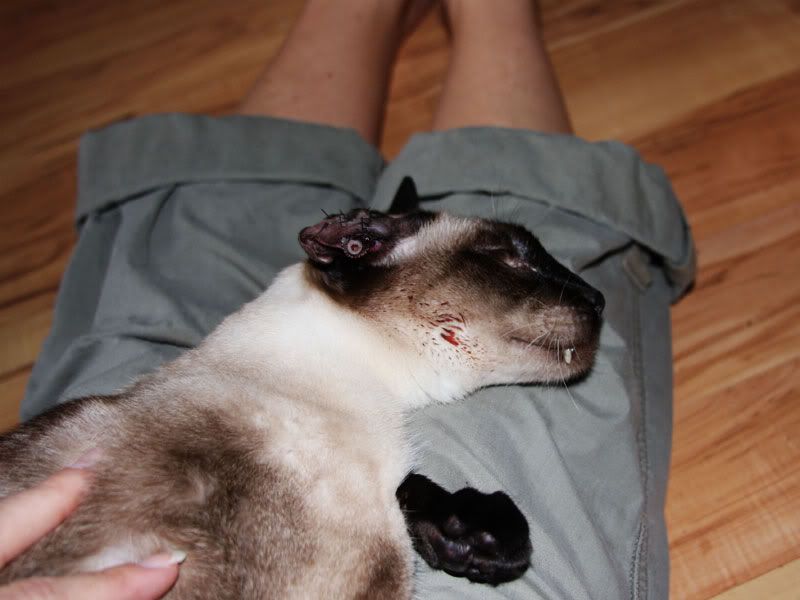 I took the lampshade off him for a few minutes last night so he could sit on my lap. He was so happy and flopped on me purring and acting sweet. Then he got up and ran around the house like a normal cat for a few minutes. As soon as he got a few feet away he scratched at his ear drain and now I'm worried he shook it loose. It looks raggy as all get out, so now I have something else to worry about.
It's going to be a long 20…I mean…18 days for us.