Poor, poor Damian.
I know some of you have been
following his story
and know that the final surgery to fix his aural hematoma was guaranteed to be the final fix after those unsuccessful ear drainings. Well guess whose ear swelled up again this weekend? I took Damian to the vet yesterday morning that they were all dumbfounded at the site of his swollen ear. The vet kept looking at him and saying "This isn't supposed to be possible."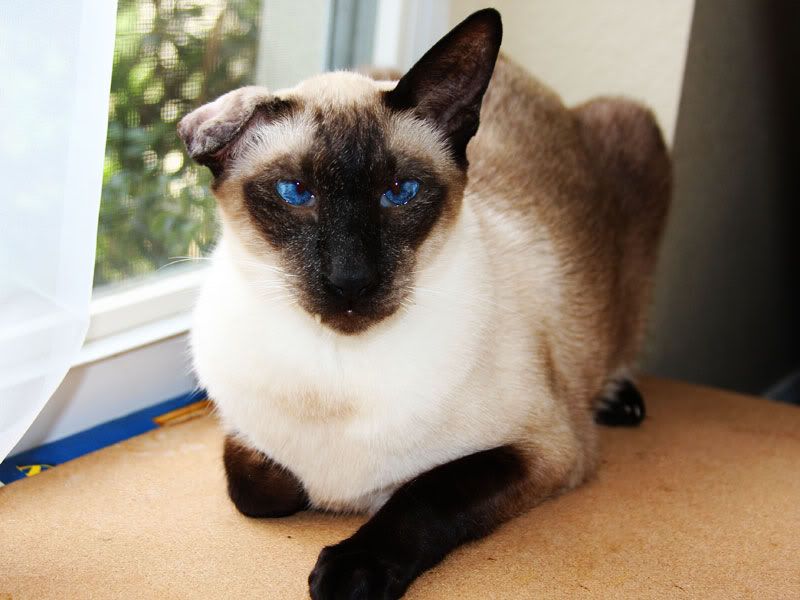 Turns out that when you sew an ear in that odd quilty fashion to fix an aural hematoma you do not sew the base of the ear to the skull. You only sew the flappy part of the ear. The base of the ear isn't the part that swells up so vets don't have to worry about that part. But Damian proved them wrong and the base of his ear into his skull swelled up and completely closed off his ear canal this weekend. The good news is that the crinkled up cauliflower part of his ear did not swell up, so the original surgery did its job.
He is shaking his head, hiding and obviously in pain. The only solution was to do another pricey aural hematoma surgery to fix the base of the ear. This means 20 more days of stitches, a drain tube, a cone on his head and antibiotics. Like the first 20 days of that weren't tough enough for him…and us. I was just commenting to Farmer B that I think I finally got up the final blood spatters from his last drain tube.
So Tuesday morning he's under the knife again and we're hoping it's for the last time. His poor little ear has been through so much - and so has our bank account. Right before Christmas too. But I'm a firm believer that a responsible pet owner does what they can to make their pet comfortable when they still have a good quality of life - and when Damian's ear isn't swollen he's one of the happiest, craziest kitties you could ever meet.
Cross fingers for him this time please?