When I started our garden one of my goals was to be able rely less on the produce section of the grocery store. I think about this every week when I fill my cart with grocery store produce. I'm already feeling a bit defeated when I'm squeezing cucumbers and eyeballing carrots so it doesn't take much to drive me over the edge.
You may have read about my anger with
banana stickers
,
bell pepper packaging and cereal
, but now I have a couple more things to add to my produce rage.
Have you seen these plastic-wrapped potatoes in your grocery store?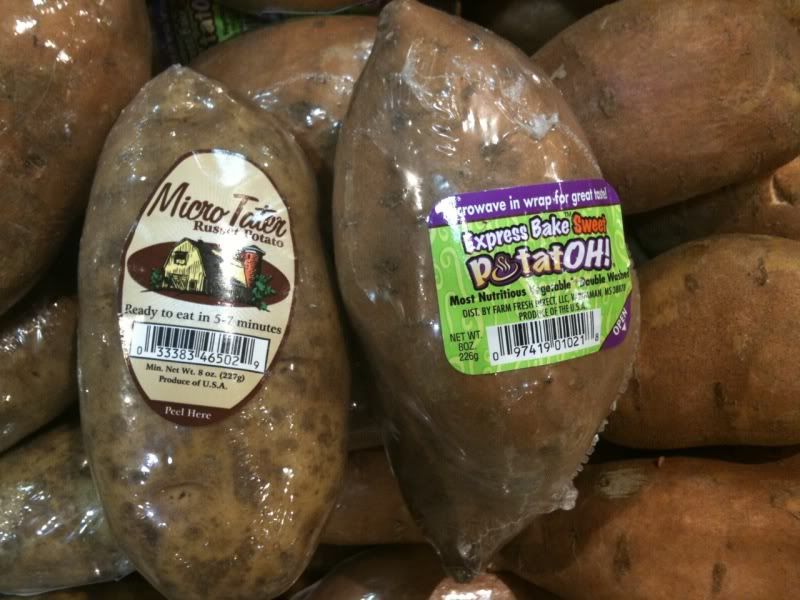 They're right next to the regular ole' naked potatoes, but these have been shrink-wrapped with a label and plastic wrap and cost about twice as much as a regular potato. I always think no one buys these bizarre products, but as I was standing there allowing my 6-year-old to pick out 2 lbs of potatoes for a recipe and watching him painstakingly evaluate every potato in the rack, I saw people leaning over us and putting these plastic potatoes in their carts.
The allure is that you can put them right in the microwave!!! Can you believe it?? If only the naked potatoes right next to them could also be microwaved. Ohhhh wait. They can be. Maybe these ones in the plastic are pre-washed? Maybe that's the allure? And it's not just a potato - it's a PotatOH! There's a sweet potato and russet potato brand - both mention they're available in 5-7 minutes due to their awesome microwavability. Yes, really.
Next time I visit the grocery store I'm bringing a Post-It note with me to place on the regular potatoes that says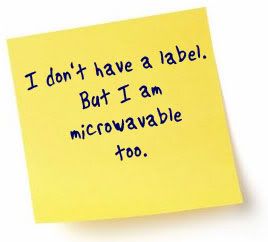 If this wasn't enough, I also bought some baby carrots, which are a staple around here. It wasn't until I got home and was ripping them open that I noticed the awesome little sticker on the package:
"PLANT YOUR OWN CROPS…"
Awesome! A carrot package encouraging us to garden! Wait a minute... Farmville. Really? So we're buying pre-packaged baby carrots and now we're learning that we can plant our own crops in Farmville. Cyber crops. Cyber carrots.
I need an intervention.
Or a more successful garden.
******
For anyone with a morbid curiosity,
here's a link to the PotatOH! website
so you can learn all about these amazing plastic potatOHs.