When I went out to the chicken coop this morning with a big bowl of strawberry Greek yogurt, I expected my usual greeting from my three adoring hens. But instead, Clementine was the only one who shot out of the coop to greet me and go beak-first into the yogurt. Maggie and Sookie were AWOL.
As you may have read here before, although we have two nest boxes, only one is deemed worthy. So logic dictated that one chicken might be laying an egg, but that didn't explain two absences. And especially not after I sang my awesome "chiiiiiiiiick chick chick chick chick" song that always causes them to bust out of their coop with feathers flying.
Strange, for sure.
I decided to open up the nest box to see who was laying an egg.
I found this.
Two chicken butts in one nest.
And from the looks of it, both trying to lay an egg at the exact same time.
I decided to go around front to get a bird's eye view of this oddity.
Yup. That right there is two chickens in one nest both laying eggs at the same time. I guess when you've gotta go, you've gotta go.
Sookie looked irritated with the whole experience. She kept checking behind Maggie to see if she was finished.
The best part is that there is a vacant nest right next to them.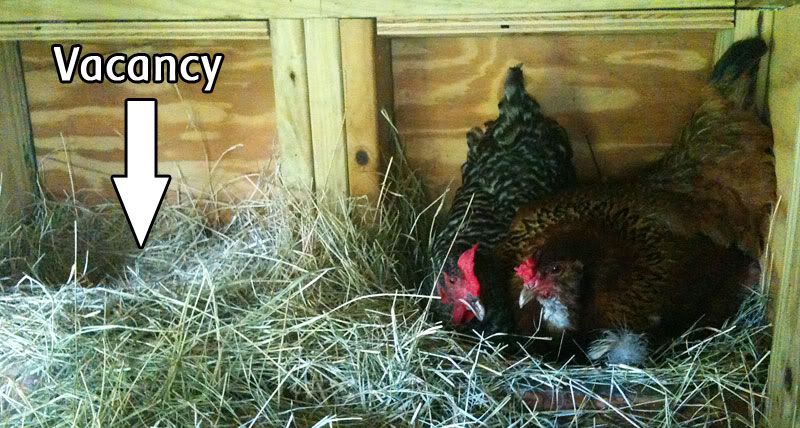 But chickens are fickle things. They rarely make sense, but that's why I like them.