I received a nice message the other day from Annie's Granny over at
Annie's Kitchen Garden
saying that she's sent me a Kreativ Blogger Award. It turns out that as much as I love to receive blogging awards from my fellow bloggers, I'm terrible at following through with the tasks necessary to pass the award along. It's not that I don't want to pass it along. It's just that I mean to do it and then next thing I know I forgot and then it's been so long that it's awkward and weird to pass it along. I'm not proud of this. It's definitely one of my shortcomings.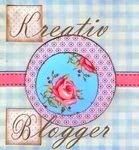 For example, Cheryl at
Cheryl's Garden Goodies
was kind enough to pass on "The Blogger Award" on May 1st of this year. I thought it was so nice of her to think of unskilled-ole' me, but then I plain forgot to pass the thing on to anyone else. Here we are about six weeks later and I'm just now mentioning it. Again. Not proud of this. Intentions in right place. Actions…not so much.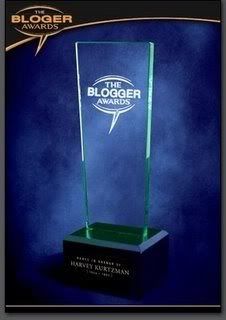 With that being said, I'm doing my best to follow through with Annie's Granny's award tasks, even though I fear I'll bore the pants off of my readers. One of the tasks is to list seven things about yourself that people might find interesting. I think it's hard to judge what others find interesting since what you are, just "is" in your world, you know? Nevertheless, after minutes of hard thought, I came up with the following list of seven things.
1) I can play the spoons. Yeah, I can rock out with two spoons, thank you very much. This is why I was so popular in high school. You think being a band geek is tough? Try being a spoon geek. LOL.
2) I'm quite versed in Cockney Rhyming slang. I don't have the accent anymore, but I am fully bilingual in Cockney Rhyming slang. It's not coming in very useful in Florida though. I could tell you to lift your Uncle Ned off your weeping willow, head down the apples and pears and put on your daisy roots to go for a ball of chalk on the frog and toad. And then you'd see why this hasn't come in very useful in Florida.
3) I don't remember most of 1995 due to a little stint with amnesia. Seriously. This explains a lot. Farmer B refers to the "incident" frequently.
4) I hopped a fence and illegally climbed to the top of Mt. Vesuvius when it was closed due to dangerous weather conditions. Farmer B was the instigator. We did it with a lone Royal Mail Postman and two girls traveling in their gap year.
5) Deep down inside I'm a writer, so one of my life goals is to publish a book. I don't know what kind of book. Maybe it'll be about a trio of chickens with special powers since we tell those stories daily around here.
6) I love 1970s disaster movies. Airport, Towering Inferno, Poseidon Adventure, Earthquake…yeah, I've loved them since I was a kid. If scores of polyester-clad actors are dying on a cheesy movie set amidst explosions, I'm there.
7) I've lived in two countries, but never lived more than a 30-minute drive from a coast. I worry I'd feel claustrophobic living in the middle of the country. I've lived on top of the white cliffs looking out over the English Channel…and lived on a small barrier island on the Gulf of Mexico, but here in Central Florida (at 30 min's from the beach) is the furthest inland I've ever lived.
I'm also supposed to nominate seven Kreativ Bloggers. This is the hard part. Because I have guilt issues, I start second-guessing myself. What if they already got the award and I missed it? Will they want it again? What if they're a fellow procrastinator like myself and then can't complete the award tasks? Will they feel guilty? Oh, what it's like in my head. I can blame my 1995 incident for this insanity. With that being said, I'm only going to nominate three bloggers. These aren't blogs with large followings and I quite like to read blogs that don't have a ton of readers. I like knowing that people are continuing to write about their lives even though they might not have an enormous audience.
1)
Kimchi and white rice
- this family just seems like people I'd love to have as neighbors. They've got great style, a great veggie garden going on and they've got chickens too!
2)
Mad Beach Maven
- Kathryn is a 60-something grandmother of 5 who lives in Florida and is pretty new to gardening (just like me). I love seeing pictures of her dog playing in the white sand and it makes me think of the fun times I had with
my dog
.
3)
Garden Now, Think Later
- Erin is a military mama whose husband routinely goes away for long deployments, leaving her with two young boys and a vegetable garden. Somehow she manages to keep it all together while he's gone!
So thanks again to Cheryl and Annie's Granny for thinking of me. I really do appreciate it. To be honest, I'm always shocked that anyone besides my own mother reads my blog, so to know others do and actually like it is always a great feeling.