Ding, Ding, Ding… bring out your dead!
Due to the awesome response from my fellow plant-killing garden bloggers, I have decided to host
Garden Blogger's Death Day
on the
last day of every month.
It's the perfect time to confess your gardening sins for the month and come clean as to what fell victim to your wrath. Instead of gardening blogs filled with gorgeous blooms and fat, healthy vegetables, this is your time to expose the dead and dying withered messes that breathed their last breath under your care.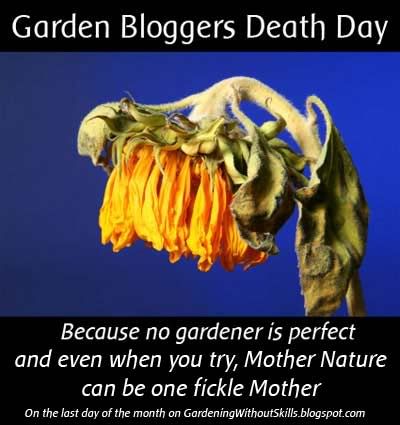 As a relatively new gardener who's light on skills, but heavy on dead plants, it makes me feel better to see some of the seasoned pro's unveiling their garden corpses instead of just reveling in their mad gardening skills. It's a big fat case of "misery loves company" in the garden.
If you'd like to join me in
Garden Blogger's Death Day
, come back here on the last day of the month and leave a comment as to what kicked the bucket in your garden that month. Feel free to put a link to your blog so we can visit it and see pictures of the plants that bought the farm, became one with the compost heap, and crossed to the great gardening beyond.
Still confused? Click here to read more about
Garden Blogger's Death Day
.
Hope to see you all on June 30th!! Sadly, I already have plenty to contribute…as always. Here's a free button if you'd like to use one.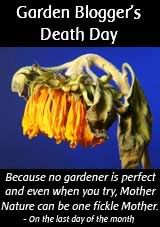 Display the Garden Blogger's Death Day button on your blog with pride! Just copy and paste this text below onto your site.