I think I've pulled the last of the survivors out of the garden and the rest will be compost-bound as soon as splodging around in 90+ degree heat and humidity sounds appealing to me. The icing on the flooding cake is the vile-looking wormy mosquito larvae that are wriggling around in every puddle of standing water in the yard. I love the risk of encephalitis and West Nile Virus in the morning. Mmmmm....good.
I have a few corn plants that are clinging to life and might produce corn the perfect size for some oompa-loopmas to eat. When I look at our growing cobs of corn I think about that scene in "Big," where Tom Hanks' character so delicately ate the baby corn and realize that's as good as it'll get for our corn. And I have one tiny okra plant that dared to flower - at only 18 inches tall, but the rest is history. Such is life.
One of the vegetables my boys were the most excited to grow in the garden was the pumpkin. They both like Halloween better than Christmas for some odd reason, and think all things Halloween-related are the coolest things ever. My oldest son has fantasies of growing an entire pumpkin patch and then maybe the Great Pumpkin will visit our garden and all will be well in his world.
So when the floods came and our once-vibrant pumpkin plants were reduced to leafless yellow goopy vines, the boys were noticeably disappointed. The good news is that sitting on the barren rain-soaked soil like little orange traffic beacons were the pumpkins that we had been diligently growing and fertilizing all those weeks before.
Aidan was excited to bring them inside and be photographed with them.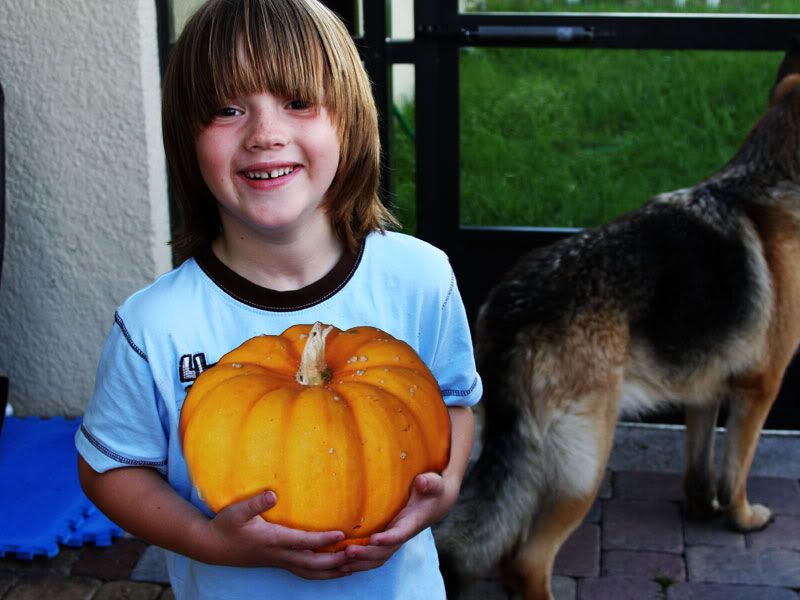 He asked if we could cut one open and carve it and put a candle in it and put it out front to scare the neighbors. I thought it was an interesting idea, but I'm just not that skilled with the x-acto knife.

Because the pumpkins were really, really tiny. Only a very poorly-executed Photoshop moment made them as big as Aidan was hoping for…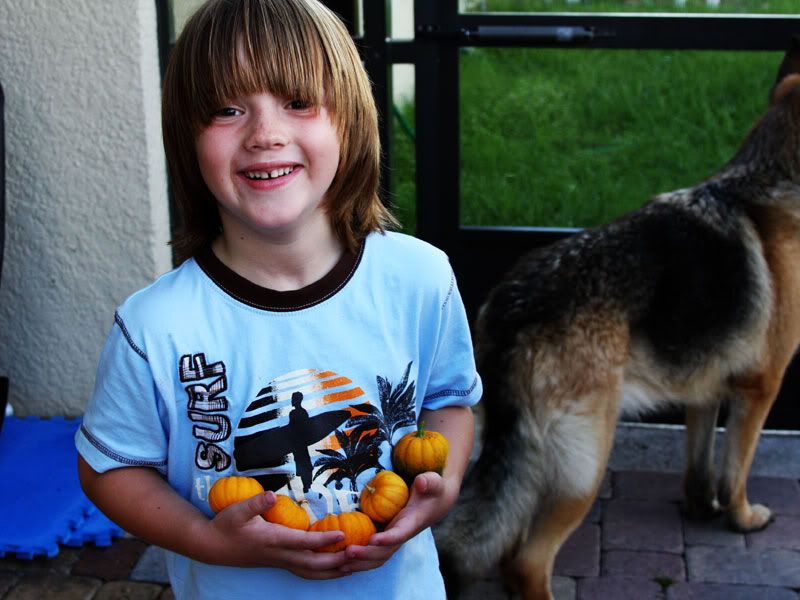 In fact, they've sat in the sun now for a week and have shrunk considerably more than when these photos were taken. Because, honestly, what do you do with a handful of plum-sized pumpkins in June?