Happy Father's Day to all the dads who read my blog and to the dads of my readers too!!!
Farmer B woke up this morning to hand-made cards, creatively-wrapped presents, wrestling with the pajama-clad boys on the couch and then a breakfast of home-made French toast...just a really great start to the day.
Father's Day is a bit bittersweet for me. I love celebrating it with Farmer B and the boys, but I'm always a bit sad that my dad is no longer with us.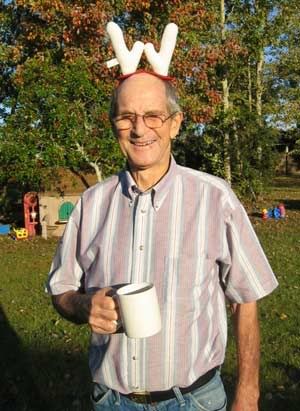 Here he is on the last day I happened to take a photo of him - less than a week before he died. He's wearing the dog's reindeer antlers on his head because that's just the sort of guy he was. I was about eight months pregnant when I took this photo and my oldest son was just shy of two years old. He was laughing his toddler head off that his Grandad was wearing the dog's reindeer antlers and acting like it was totally normal. It's such a great memory.
Miss you Dad. Happy Father's Day.