If you
read my post on May 27
you know that my Buff Orpington, Clementine, received the call from the mother ship and entered the mysterious realm of the broody hen. And you may recall that I was concerned because broody hens can actually die on the nest if they don't eat or drink for long enough while sitting on unfertile eggs that will obviously never hatch. And we live in really hot and humid Florida weather, which means they can get dehydrated really quickly.
Clementine's comb and wattles had turned a very light pink and had shrunk dramatically. She rarely left the nest and I hardly saw her eat or drink. We tried putting her in our moveable hoop run, but she just settled down on the grass in one spot and stayed put. I knew it was time to make her a Broody Buster Box.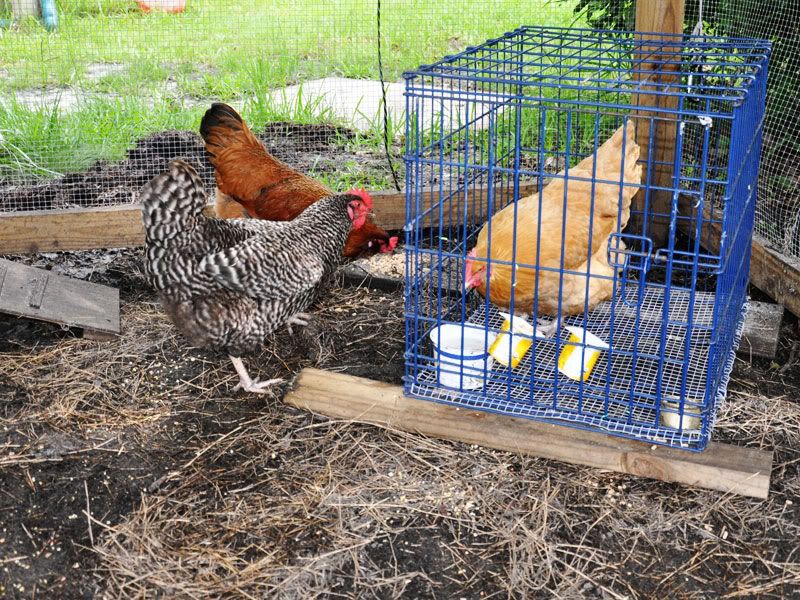 This required purchasing a cage, so I scoured Craigslist and spent entirely too much on a used blue wire cage. I read that the cage should have a wire bottom and be slightly elevated so air blows under the hen's undercarriage and she loses the urge to sit and get all warm and cozy on a nest. I cut some hardwire cloth to fit the bottom and wrapped it around the side bars so there were no sharp edges. Then I put the cage on two old 2x4s that I found in the yard and shoved her in.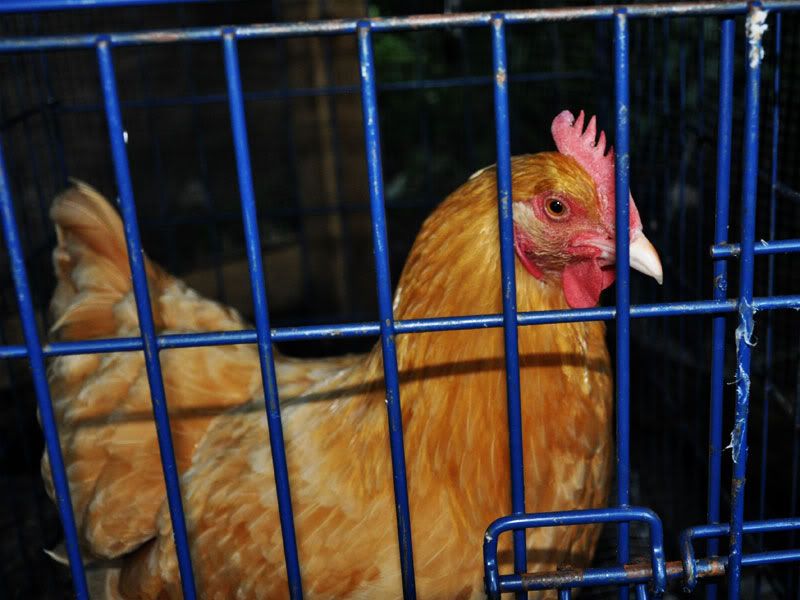 In case you're not aware, chucking a broody chicken in a cage means she will throw her half of your best friends necklace out the window. She was less than thrilled with me when I put her in there and locked the door. She may have growled a bit.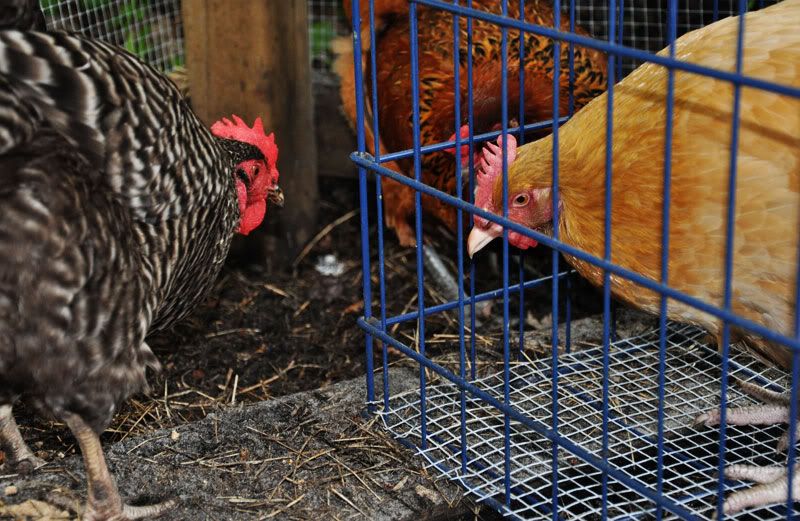 To make sure she had food and water available I grabbed a couple of empty Stonyfield Kids yogurt containers and attached them to the cage with some safety pins. Nothing but high tech and high class here, but it worked!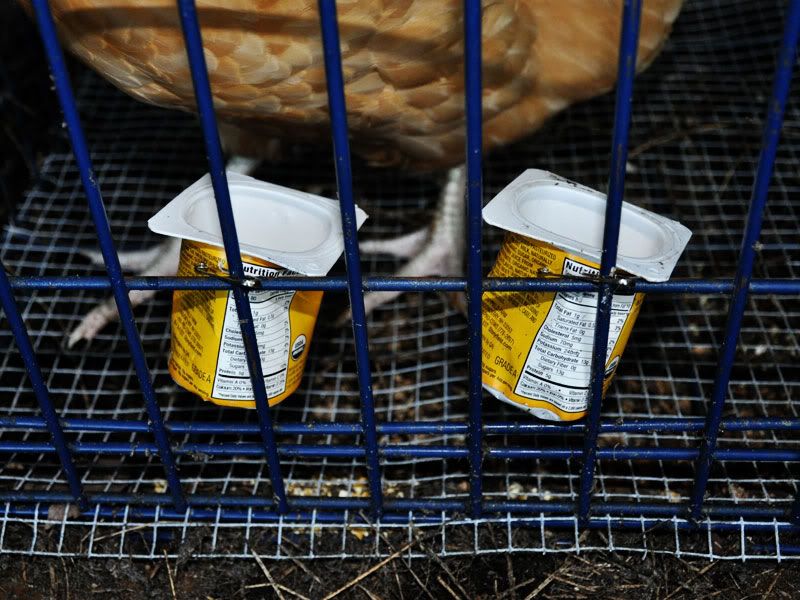 I put her in the cage in the morning when I let the others out into the run. They stared at her with an "Ohhhhhhhhhhhh what did you do?" look. When it was time to lock the girls up at night, I took her out of the cage and put her straight on the roost. I'd find her the next morning back in her place on the nest.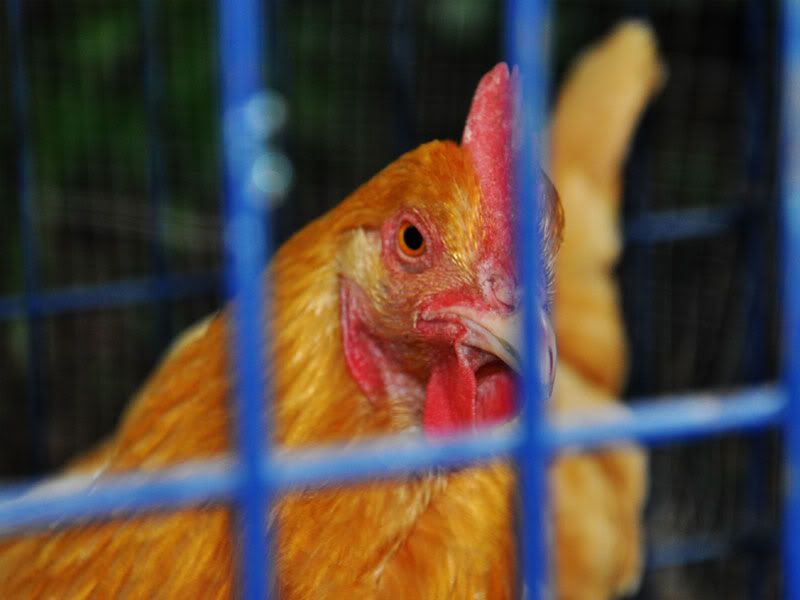 Wash, rinse, repeat for three days.
This morning instead of finding her on the nest I found her at the door waiting to come out into the run. When I opened the door, she bolted out with the other two and hovered around me waiting for a treat. She didn't even fluff up and hiss at Saffie!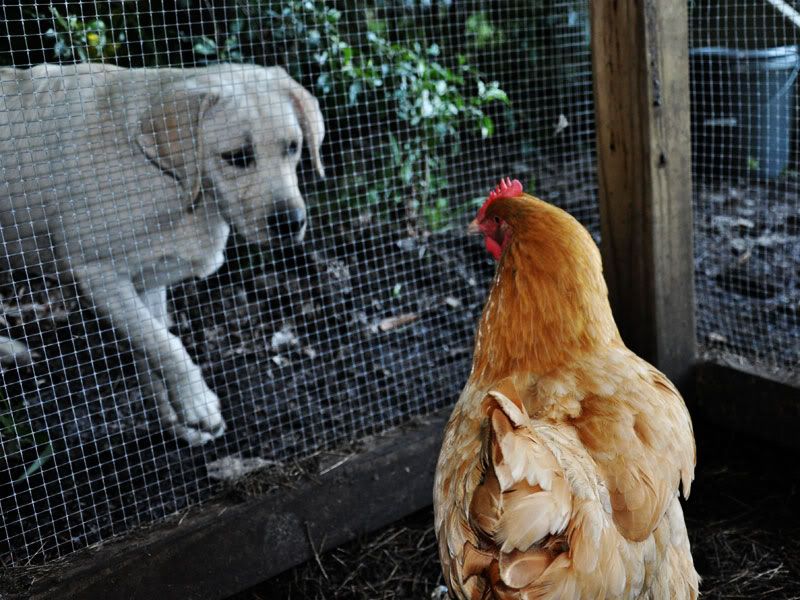 YES! She was no longer broody! She was a regular ole' loveable chicken again!!
Three days in solitary and she was ready to join general population. The jailbird was free! Hallelujah!
She knocked Maggie out of the way for a bite of cottage cheese today. She didn't try to attack the dogs when they sniffed her through the fence. I knew I had broken this broody and made a few phone calls to friends and family to boast about my success.
Then tonight I went out to lock up the girls and dammit if Clementine wasn't back on that nest again. She's a persistent little bugger. I suppose her parole is being revoked tomorrow and she'll be back in the hole for another couple of days. I guess I'll see where she is in the morning.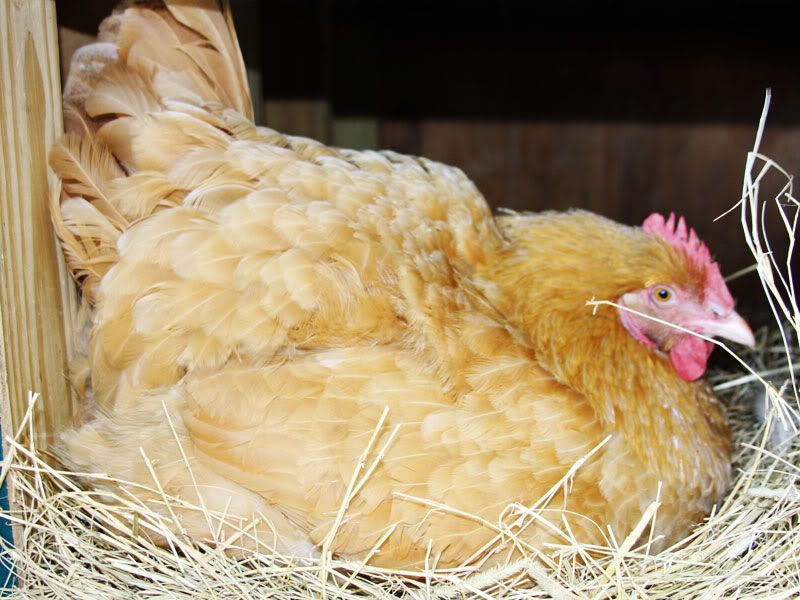 That's what I get for feeling cocky.