One of my new-found gardening problems is having no clue when certain not-so-obvious vegetables are ready to harvest. I have potatoes growing right now that might have been ready two weeks ago and then again, might not be ready for another month. Who knows?
I have an eggplant growing that looks ready to harvest. It's much smaller than a typical grocery-store eggplant, but it's about the size of the eggplants I got in the veggie co-op a few weeks ago. Maybe it's ready to harvest? Maybe it's past ready? Again, clueless.
And let's sidestep to talk about my dream the other night. I watched a YouTube video on how to harvest a cabbage because I had a feeling that my lone cabbage plant was ready to be harvested. It had some holes in the outer leaves, but the center head looked great. It had to be time. All of my spring cabbage plants went kaput in the heat, but I had one pretty cabbage plant from last Fall that looked about ready to go. I watched the video and decided that my cabbage was about ready come out of the garden. I went to bed that night and had a weird dream about pulling the cabbage up and it made this horrible ripping sound and I pulled and pulled and ended up ripping up half of the Northern Hemisphere up with it. It was very disturbing.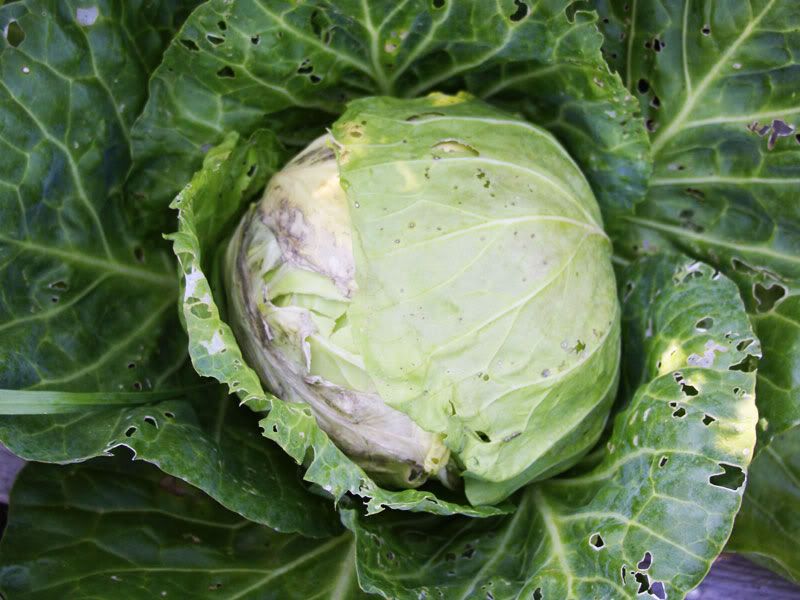 Fast-forward to yesterday morning. After having that dream I decided that it was finally THE day to harvest that cabbage. I figured I'd let the chickens out and then come back inside, get a knife and head on out to the garden. On the way back inside I swung by the garden to discover, much to my horror, that some evil creature of the night clearly had the exact same dream and eaten the cabbage before I got there.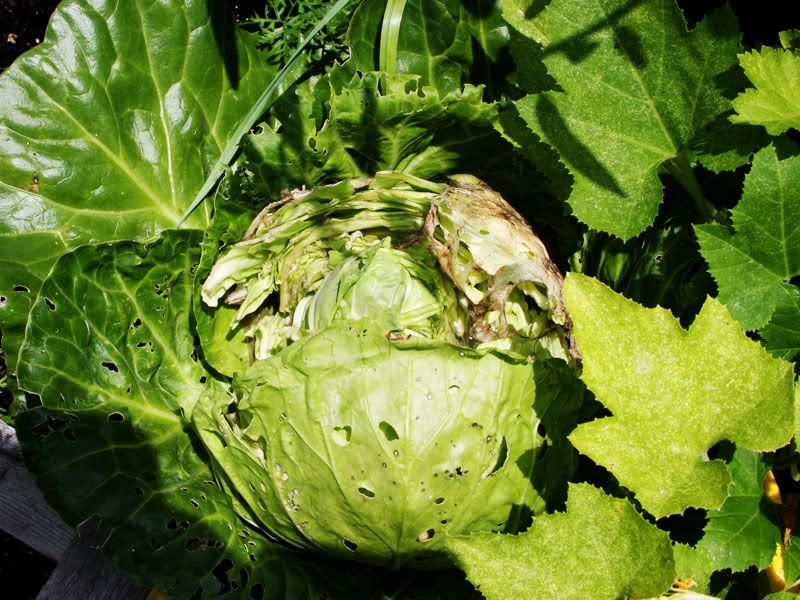 WHY DOES THIS ALWAYS HAPPEN TO ME?
I'm always a day late and a dollar short in the garden.
To mark my cabbage's demise, I've written a short haiku.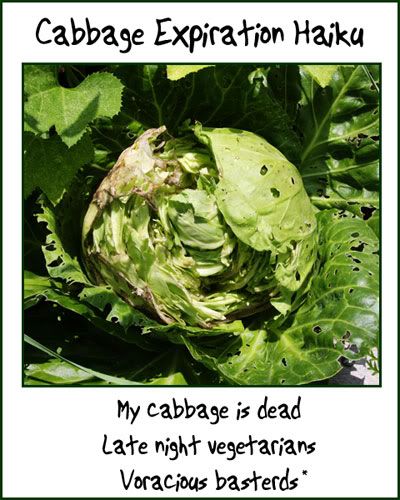 (*note: I spelled basterds with an e, much like Quentin Tarantino's "Inglourious Basterds". No one knows why he did it, but apparently it's less offensive to spell it wrong. And on a gardening blog, I aim to unoffend, even in the face of cabbage murder).