I've been eyeing up my potato plants recently and wondering if it's time to pull them out and see if there are any potatoes buried below. I'll admit that I had no clue what you're supposed to do with potato plants when they appear ready. I wasn't sure if they are the kind of plants that you keep in the ground to grow more once you harvest from it (like a tomato) or the kind of plant that you pull out to eat (like a radish or a carrot).
Annie's Granny
told me that a couple of weeks after a potato plant blooms, you can start poking around for potatoes. Or, she said, you can wait until the plant matures and dies off and get all the potatoes then. Well my plants had definitely matured because they were yellowed and drooping. So the decision was made for me.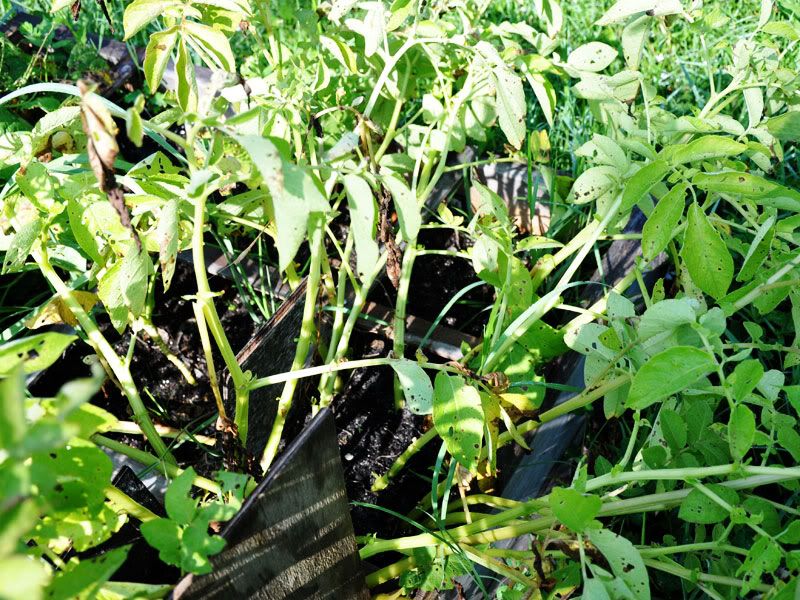 I got the boys and told them we were going to plunge our hands into the soil and see what we came up with. That little boy of mine was instantly disgusted and left, but that big boy of mine was game and liked the idea of getting his hands really dirty.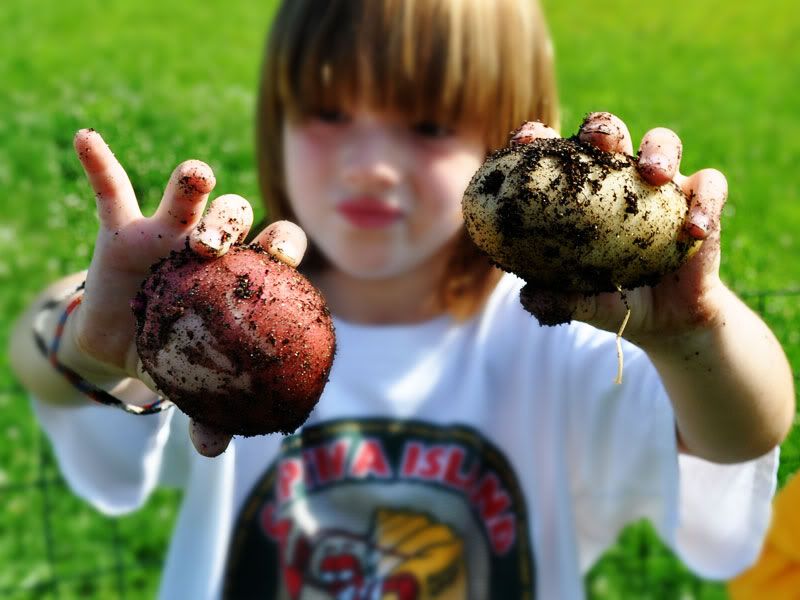 We started digging and surprisingly enough we found potatoes. Last time we planted potatoes (in our regular garden - before we switched to a SFG) none of them grew. Well actually one of them grew, but
I mistook it for a weed and pulled it up
. So you can imagine how surprised we were when we kept finding potatoes on the ends of our plants this time around! It was like reaching into a grab bag with your eyes closed… you'd poke around until you found something and grab hold and pull it out and viola! - a tatery gift!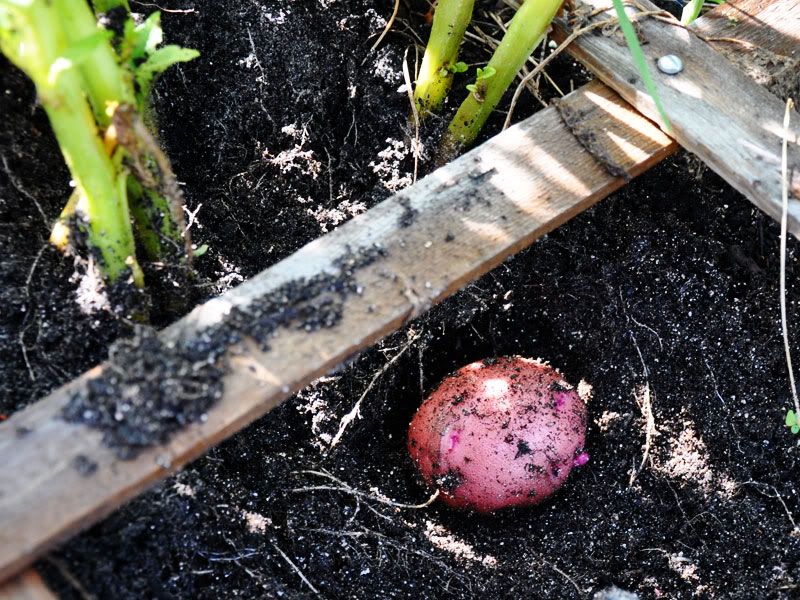 I had two squares of the SFG dedicated to potatoes and was really hoping to get at least a pound or two of potatoes. But every time we dug our hands into the ground, we came up with more and more potatoes. It was strangely exciting and surprising! That's the thing about growing potatoes. You see these plants growing above the surface and you have no idea what's going on below the soil. It could be feast or famine - there's no telling. Of course, I expect famine and am overjoyed when something actually grows as it's supposed to.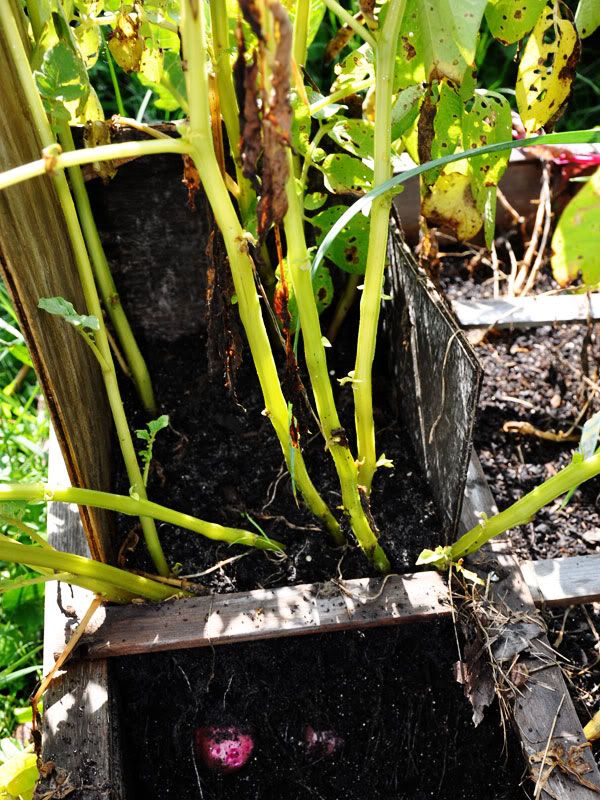 At the end of the day we ended up with 10 1/2 pounds of potatoes. Not bad for only two squares in my raised bed! I'm sure if I'd have known what I was doing, I could have reaped a better harvest by pulling out some potatoes every few days after the plant bloomed, but as we all know it's guesswork for me and I can't complain about 10 1/2 pounds of unskilled taters.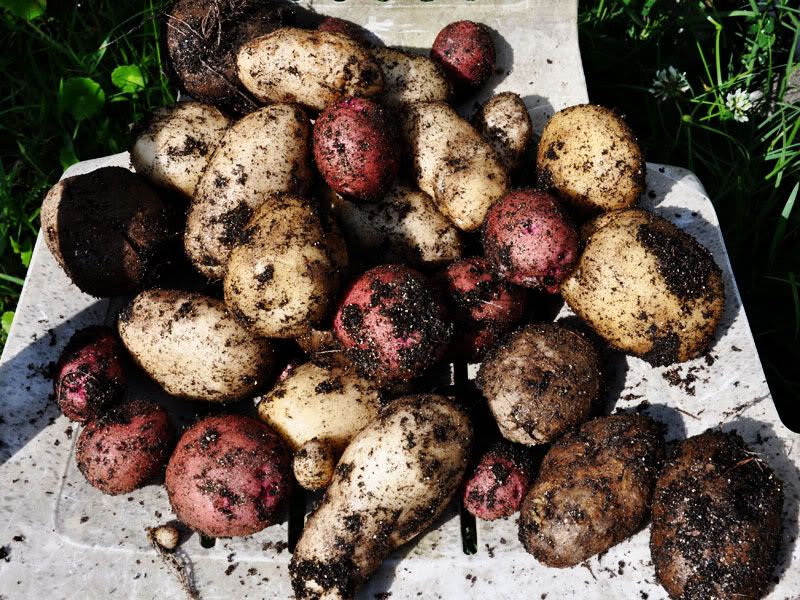 Now I just have to find out how to store them so they last longer because we surely can't find a way to cook that many potatoes in a week! We're low on root cellars here in Florida and really low on cool, dark places, so for now they're just sitting in a big bowl on my countertop with a cloth napkin thrown on top.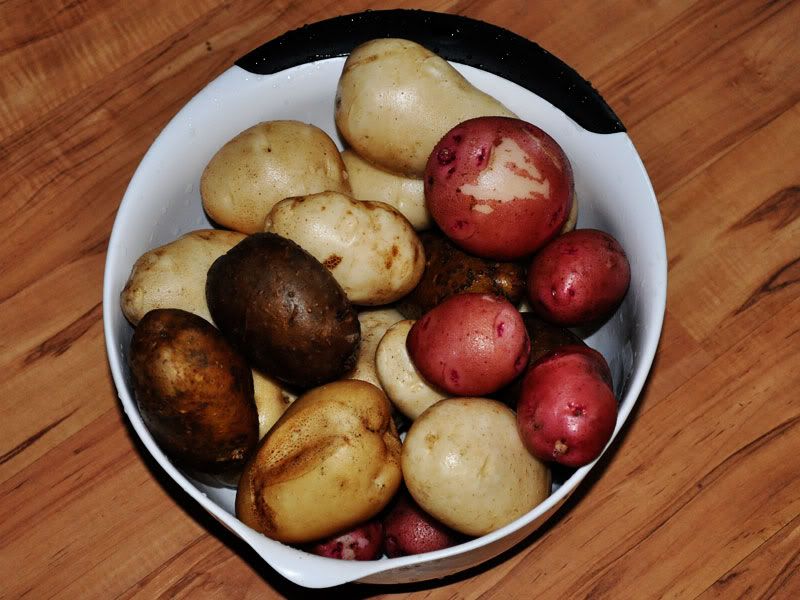 I'm especially happy that I pulled these potatoes the day AFTER I purchased a 5-lb bag of potatoes at the grocery store. I'm also in search of some tater-friendly recipes where I can enjoy the true potatoey-essence of this harvest and not just mash them up and pour gravy on them. Any suggestions?