I'm t-t-t-too c-c-c-cold to t-t-t-type. This Arctic Blast was fun for a moment and now it's stopped being fun and is just downright horrible. We're not equipped for such low temperatures here in Florida, especially not in Central and Southern Florida. We're thin-skinned sun lovers and we know it. We've had low temperatures in the 20s and 30s for days and days and days… and I am ready to move away from the frigid confines of Florida at this point.
We don't have the clothes for it and we sure don't have the patience for it. No one owns a real jacket around here and I don't even have any fleece-lined Croc's. I have two pairs of jeans and three long-sleeved shirts. It's all a bit too much. I'm calling it quits on this weather. Hmph.
Farmer B is running in his first ever marathon this weekend and temps and windchills are expected to be in the 20s. That means he'll be running in weather that's 70 degrees colder than what he's been training in!!!! He's very stressed to say the least.
Yeah, we're a mad, mad mess.
Just how cold is it?
It's so cold that
iguanas are falling out of trees
in South Florida because the cold puts them into a state similar to hibernation. They're calling them kamikaze iguanas because they're just dive-bombing to the ground.
It's so cold that my boys were almost late to school today because our car was frozen. We don't own ice scrapers here in Central Florida so when the car is frozen we stare dumbly and numbly at it for awhile before scraping off the ice with our credit cards. That takes a long time, by the way. I saw an ice scraper once and asked my mom why someone had a kitty litter scoop in their glove box. Also, recess is cancelled in school because it's too cold for the kids to play outside since many don't own jackets.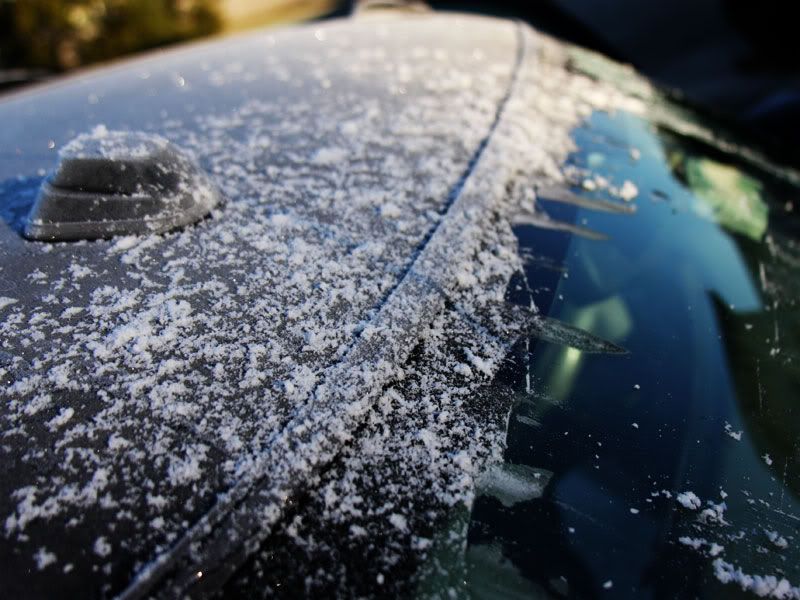 It's so cold that the chickens get warm cooked oatmeal for breakfast instead of just the as-is oats scattered around their run. Yes, I'm aware that I cook my chickens oatmeal when it's cold. Please just gloss over that.
It's so cold that I think the garden is history. I threw a tablecloth over my best-producing tomato plant just in case, but I'm afraid to look under it. I fear it'll be like lifting a sheet in a morgue - just too gruesome to take right now. Everything else outside is a funky shade of grey, including my oh-so-cute flowers by the front door.
It's so cold that our local weather guy is predicting a *chance* of snow/sleet/wintery mix this Friday night into Saturday morning. SERIOUSLY? And we're about to set a record for the most days with temperatures under 60 degrees. Oh and airplanes are stuck at our airport because they have ice on them and of course, we have no deicing equipment. I should call them and let them know about the credit card technique.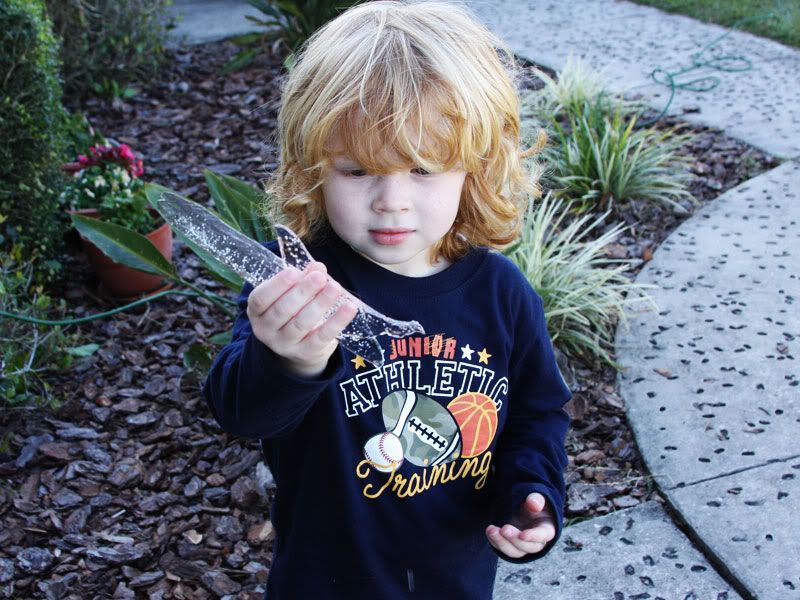 Well I'm going to go and curl up with a cup of tea, a warm puppy and a blanket and try and thaw out before I have to trek outside into the bitter Florida weather again.
Sigh.