It finally happened. Saturday morning - the day of my 4-year-old's birthday party - we sat there staring out the window waiting for "it" -the wintry mix/sleet/snow that the weather forecasters had been promising. It was cold enough and cloudy enough and we'd seen photos of snow in counties just north of us… the anticipation was insane.
Then I heard some rain that sounded a bit thick. I went outside and it was some real live sleet. We waited until it passed and went out to check on the chickens and we saw it. There were snow flakes on the slide and a few lines of snow on the ramp to the boys' playset.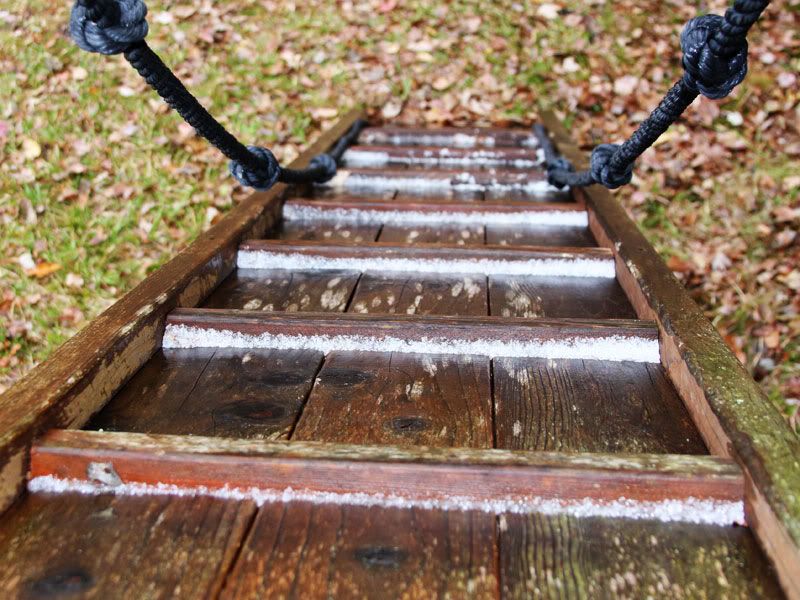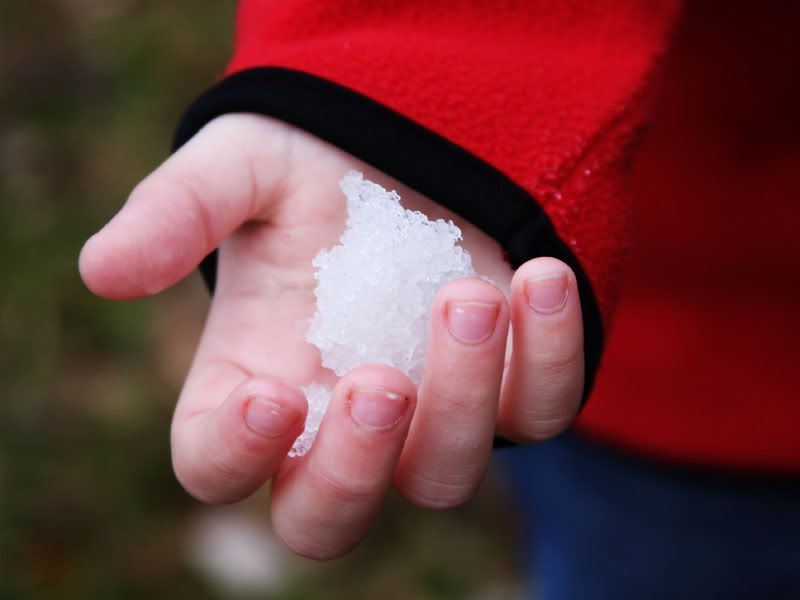 It was really quite a sight to see. The boys were intrigued and excited. My oldest son ate some and they both touched it and poked it and shuffled it from hand to hand. I'm kicking myself for not having them make a microscopic snowman like I keep seeing on the news. They ran in with tiny snowballs to show my mom. We all ooh'd and aah'd over the whole thing.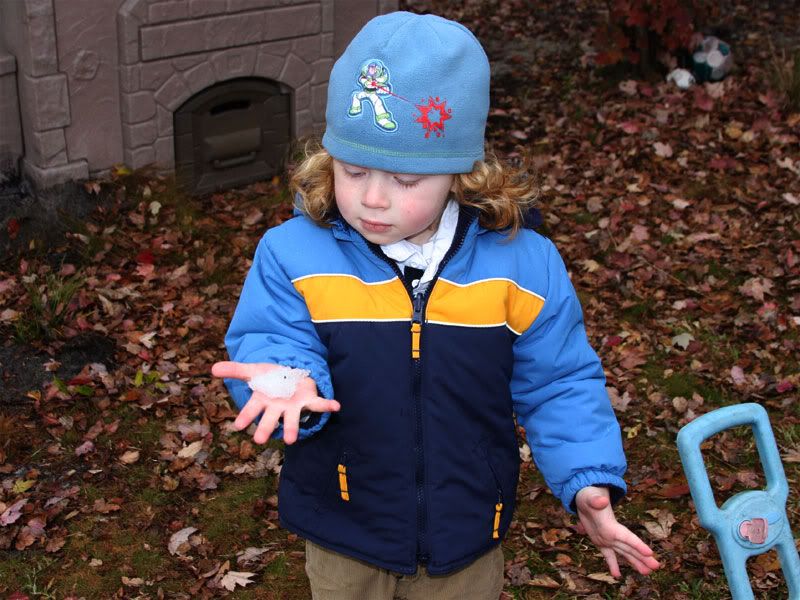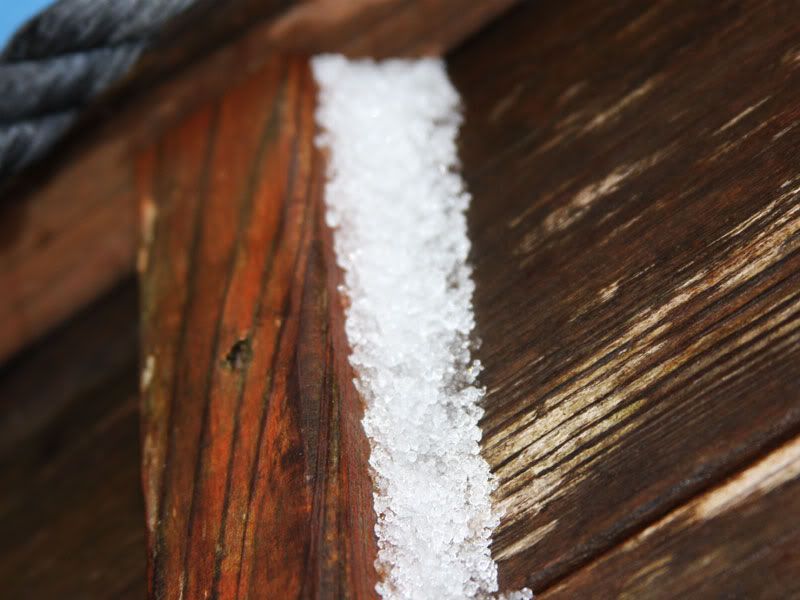 Now I know many of you Northerners will scoff at our snow, but please try to remember that this is Florida - the state of palm trees, beaches and sunshine. Not the state of sleet and snow. I think this is the coldest weather the state has seen since… the ice age? I've lived in the state for 26 years and never seen it snow here (although I've seen flurries on the news before in random locations), so this is a very rare event for sure. We seem to be setting records every day from the most consecutive days under 60 degrees to the coldest day to snow to sleet to ice… it's just the strangest experience.
My poor chickens were shivering in their coop. I went to see them that night and they were shivering so hard that I could barely hold onto them when I picked them up. I ended up wrapping their coop in old comforters and drop cloths and then jamming chairs and wood against the edges to keep it from blowing up. I know many people also laugh at that since chickens survive fine in cold climates, but remember, we have a warm weather open coop - not one designed to keep the heat in and the cold out. Their drinking water has been frozen in the mornings too - another first for us.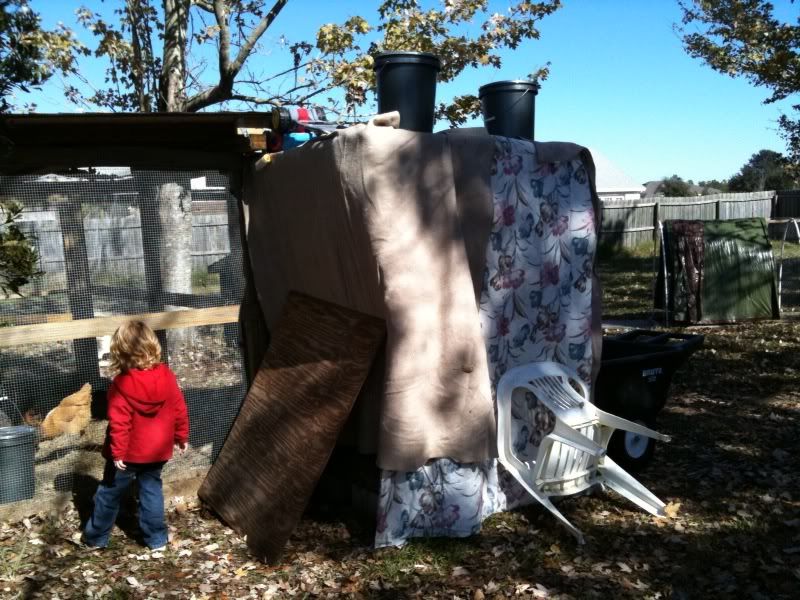 Just today at Noon I went outside and found ice on the garbage can in the backyard. My youngest son told me to be careful with the piece of glass I was holding. This real-live-ice thing still isn't quite clicking for him. Please don't be too jealous of my awesome green hoodie sleeve and multicolored 99 cent stretch gloves.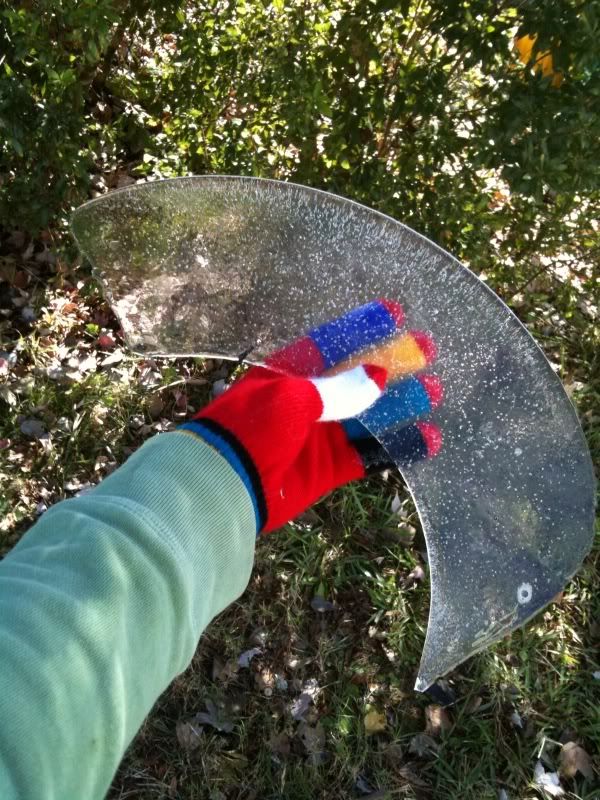 On a side note, Farmer B completed the Disney marathon on Saturday. We're so proud of him! It was the coldest day in the history of the marathon. He said the cups of water and PowerAde they were handing out to the runners were frozen on top and slushy and the bananas, raisins and chocolates were also completely frozen. He said it was dangerous near the water stations because the spilled water from the runners had frozen into sheets of ice on the road and the runners were slipping and sliding like Bambi on ice. Even though he was numb he completed his first marathon in 4 hours and 4 minutes!! Here's my oldest showing off daddy's newest medal.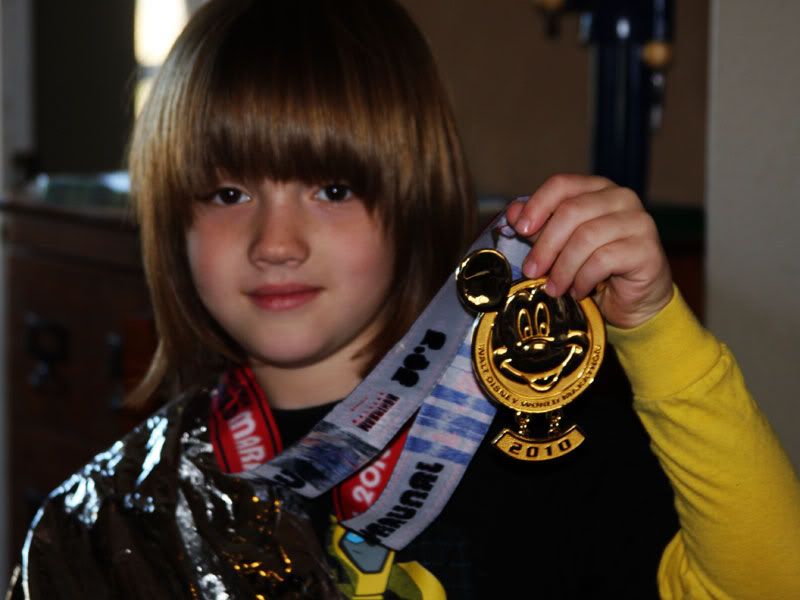 The weather isn't so funny to local wildlife and crops though. There are many stories of animals suffering terribly from the cold - especially turtles and manatees - and all the damage to the citrus crops that is just devastating to the farmers. Better enjoy your OJ now - it'll be pricey pretty soon!
Stay warm everyone!