I have been ogling my seedlings on the patio table recently and thinking how amazingly talented I am for growing plants in pots. My gardening bravado was quickly crushed when I perused other gardening blogs and learned that my little seedlings are leggy. This "leggy" term is new to me - as are most gardening terms I've come across.
Leggy is fancy gardening talk for
"New gardener doesn't know what she's doing and screwed up the seedlings by planting them too shallow, too hot, too far from light, or too anything, which has caused a long, flimsy craptacular stem, which usually leads to premature floppage and untimely death."
Yes, I have a case of the leggies. I've read that leggy tomatoes can be saved by planting them deep because the stems will grow roots enabling the plant to be stronger, so maybe there is hope for some of my long-legged little fellers. But the rest of my leggy minions? I wonder if their future is bleak. Has their fate been sealed? I fear it has. Just look at this death row line-up of seedlings if you've got the heart. Pitiful.
I have leggy okra. Leggy cauliflower. Leggy broccoli. Pretty much leggy everything. I went from being proud everything was so tall to being crushed that everything is so tall. Sure - I started my seedlings on the patio with only sunlight as their light. It's boiling in the garage, so that didn't seem like a cool place for them. We keep the A/C in the house set to about 81 degrees, so the house didn't seem cool enough - besides, I have no idea where I could safely put an entire tableful of seedlings inside the house where they'd be safe from boys, chickens, cats and a clumsy dog. So the patio seemed like the right place. Apparently the patio is the source of the evil-legginess that plagues my seedlings.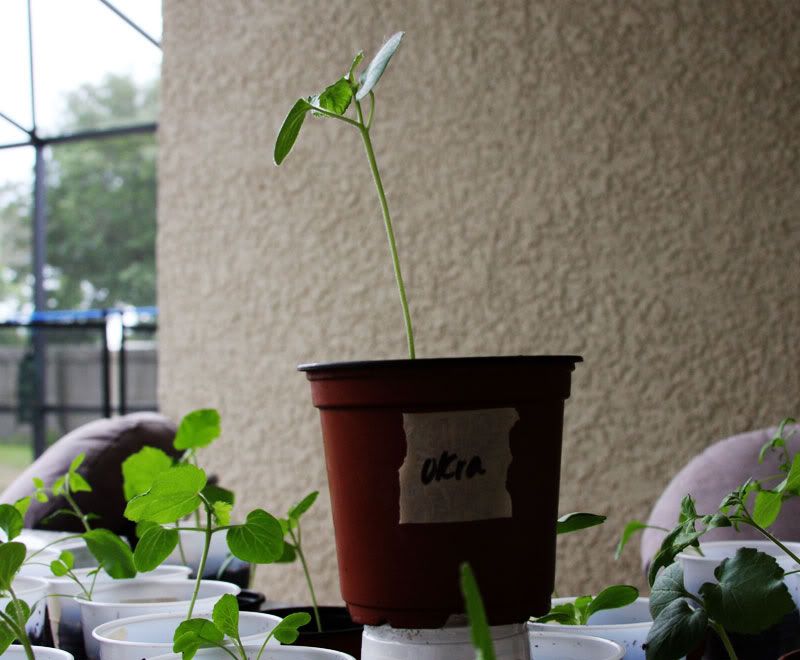 I'm not sure it's even worth planting these leggy things in the garden. Maybe I should just to give them a fighting chance. It seems a bit drastic and sadistic to snuff them out with a quick chuck in the compost pile when they're clearly alive today. Oh the life and death decisions that plague me now that I have entered into the dark world of gardening…What to do…what to do...